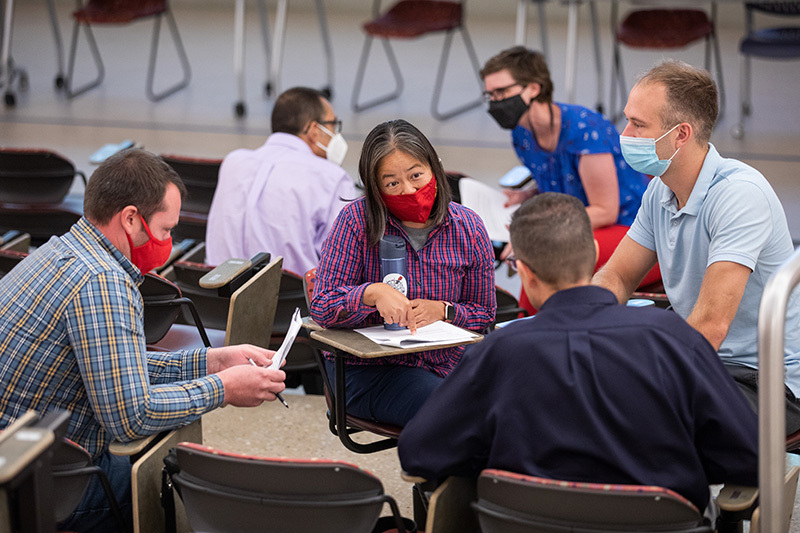 What did you feel the first time you walked into a classroom as a college student?
With that question, faculty members are transported into the shoes of their students, recalling the anxiety that comes with wanting to find your place in a new environment. The scenario sets the stage for the second year of inclusive classroom training, focused on creating a sense of belonging for Iowa State students.
The 2020 National Survey for Student Engagement asked 4,524 ISU freshmen and seniors if they felt part of the community and if they felt comfortable being themselves. Nineteen percent disagreed or strongly disagreed with the first question and 9% felt that way about the second question.
"Belonging contributes to our overall well-being with our physical, mental and emotional health," said Laura Bestler, Center for Excellence in Learning and Teaching (CELT) program specialist, during an Aug. 19 session with the agricultural and biosystems engineering (ABE) department. "Belonging is a necessary ingredient for our students' persistence in their major and retention at Iowa State."
One department at a time
Annual inclusive classroom training conducted by CELT staff is one of the 10 actions President Wendy Wintersteen identified in 2019 to address racism and discrimination on campus. The first year of training for all faculty began in January 2020 and focused on why teaching inclusively is important.
This year's training has three goals:
Recognize how teaching plays an important role in a student's sense of belonging
Identify strategies to create a student's sense of belonging in your teaching
Locate student support services to use and share with them
Departments are able to customize the training to focus on topics and situations they are more likely to encounter.
Training will be completed this fall, with 51 departments having scheduled or completed it as of Aug. 24. Twelve have yet to schedule a session. Of those scheduled, 53% have chosen to conduct the training face-to-face and 47% through online synchronous instruction.
CELT will provide inclusive classroom training for graduate students during the spring semester.
Campus resources
A flipped learning approach is used, with faculty asked to complete readings, tasks and self-reflections in Canvas prior to training. This creates time during training to share experiences and expertise in small groups.
When students have issues inside or out of the classroom, a faculty member is a likely place they will turn, Bestler said.
"The training really helps me rehearse and set the scene in my head," said ABE associate professor Gretchen Mosher. "I am not having to make up a response on the spot. It provides me with the language to talk to a student because you don't always have time to overthink things."
Bestler said it's not solely on instructors to assist students in need, but being aware of available resources on campus can make the difference in students finding success. CELT has a webpage to guide faculty helping students in need with an emphasis on mental health.
"One out of three Iowa State students experiences significant mental health concerns, anxiety and relationship concerns," said Bestler.
ABE professor Brian Steward said the training is a good reminder to be empathetic to students, an expectation that is part of the department's culture.
Timely training
Bestler said because the last 18 months in a pandemic challenged everyone, the training is happening at an opportune time.
"Everyone knows how important it is for us to create that sense of belonging no matter where our students -- or we -- are right now," she said. "I truly believe people find this to be a valuable topic because we know how essential belonging is for our students to be successful."