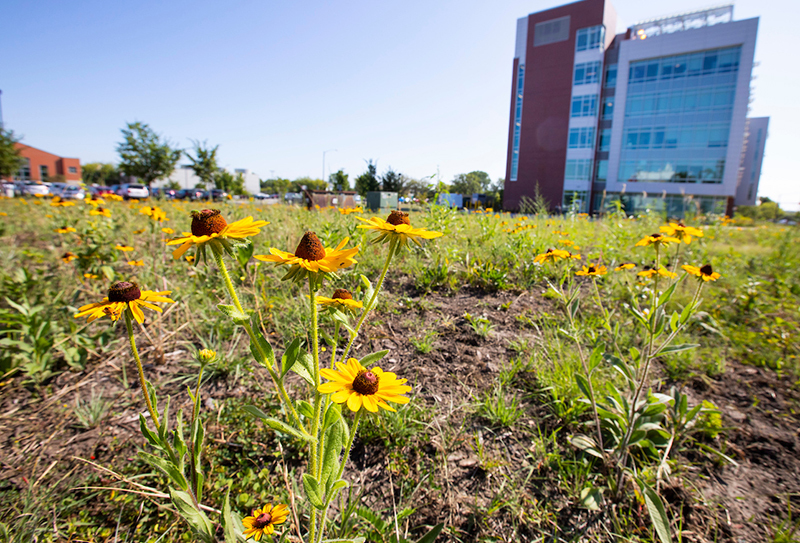 Removing two aged buildings from the Pammel Drive corridor in the last 18 months presented an opportunity to do something different with their replacement green spaces. With help from a few campus partners, facilities planning and management's (FPM) design services team is seeding the former Insectary and Genetics Lab building sites with pollinator habitat, plots of about 20,000 square feet each.
The Insectary site was seeded in mid-December 2020 and again in late February 2021, and the Genetics Lab site, which FPM temporarily planted with oats this summer, will be seeded a couple of times this winter between the first snow and early March. The seeds need a few freeze and thaw cycles to break open, explained natural resource ecology management professor Steven Bradbury, one of several volunteer seeders on the project. In three to five years, about 50 species of Iowa-native plants, some up to 5 feet tall, will outlast the early weeds "for a really cool look," he said.
FPM landscape architect Joe Stoberl said the locations likely are future building sites. In the meantime, "this is an alternative way to green the space."
The intent is to provide a habitat for monarch butterflies as well as bees and other pollinators. Expanding monarchs' habitat plays a key role in their recovery as a species.
But Bradbury also said cost analysis research has shown establishing and maintaining a pollinator habitat is less costly than maintaining turf grass. And the sites present a teaching lab possibility in a few years, he added.
Small slice of a big picture
Bradbury is part of an interdisciplinary research and outreach group that supports the strategies of the Iowa Monarch Conservation Consortium, a 50-member partnership of universities, businesses, utilities, commodity groups and private groups and foundations. ISU and the state's Department of Natural Resources and Department of Agriculture and Land Stewardship are co-facilitators of the consortium, founded in 2015.
The idea to try something different on Pammel Drive bubbled up from multiple corners of campus, Stoberl said, including entomologist and university President Wendy Wintersteen, a co-founder of the consortium during her tenure as dean of the College of Agriculture and Life Sciences.
All pollinator plots contribute to the consortium's "big-picture" (20-year) strategy for monarch conservation in Iowa, Bradbury said. In turn, that state plan ties in to a broader mid-America plan involving states from the Dakotas to Ohio.
"If we can establish a sufficient number of habitat patches across the state, it will make a big difference," Bradbury said. "The monarch uses big and small sites, and they all help. Patches of this size, in rural and urban settings, are great."
Throughout her life a female monarch lays her eggs on milkweed plants, which are the only food source for monarch caterpillars.
Pollinator-friendly recipe
The research and outreach group created the recipe for the seed mix used on the two Pammel Drive plots. All 50 seeds in it are native to Iowa and available from commercial seed vendors. Bradbury said the mix is biased toward wildflowers (37 of the 50 species) to provide as many nectar sources as possible for monarchs and pollinators from early spring through September. The remaining seeds are prairie grasses. A more traditional prairie seed mix would feature a 1:1 ratio of wildflowers and grasses, he said.
The Pammel Drive sites are the monarch research and outreach team's first habitat on campus, but FPM has developed other pollinator gardens, Stoberl said, including the south sides of the National Laboratory for Agriculture and Environment and the College of Design and the west sides of Elm Hall and the Knoll.