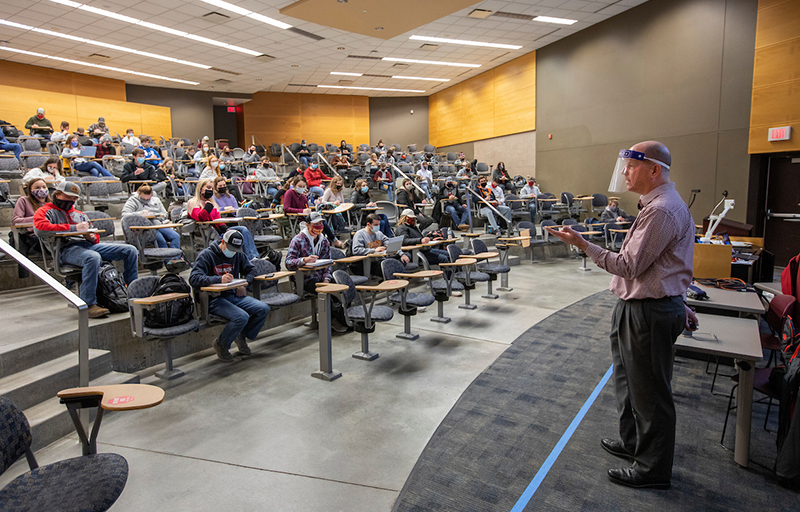 From a course delivery perspective, spring semester at Iowa State will look much like fall semester, with instructors offering in-person, hybrid and online options to students. What's different is the university is beginning to restore on-campus opportunities and spaces that encourage, or at least allow, students to collaborate and study in the same room.
"Processes we had in place for fall were appropriate for the time -- there was still so much uncertainty about the disease," said associate provost Ann Marie VanDerZanden, who chairs the academic continuity working group. "Seeing how well students responded to Cyclones Care expectations and what worked last fall, and knowing those spontaneous interactions are so important, the working group reevaluated some of the fall protocols for spring semester.
"We also learned a lot about how to continue navigating through this very complicated time," she said. "So, we'll keep learning for another semester and reevaluate for summer."
Where they learn
VanDerZanden said the mix of course delivery options offered fall semester worked, evidenced by students' academic performance. The university's annual assessment of grades, done each fall semester, showed consistency from a year ago. This fall, 78.4% of all undergraduate grades awarded were a C or higher, compared to 77.5% during fall 2019.
When students registered for spring courses, the delivery mode for each class and section was indicated in the registrar's class schedule so they could select among the options offered. In dozens of courses, enrollment in online sections outpaced that of in-person sections.
Overall, 38% of Iowa State's spring courses have an in-person component. This includes the 21% of courses fully face-to-face and 17% taught in a combination of in-person and virtual instruction.
VanDerZanden noted that course delivery needs to remain fluid so instructors can respond to pandemic-related variables: student absenteeism rates and spikes in student quarantine or isolation numbers, for example. Like a COVID-19 test, course modality is a snapshot in time.
Two snapshots: Delivering ISU courses
| | | |
| --- | --- | --- |
| Delivery mode* | January 2021 | September 2020 |
| Face to face | 21% | 26% |
| Hybrid | 17% | 16% |
| Online | 36% | 34% |
| Arranged | 26% | 24% |
| Total | 100% | 100% |
| Face-to-face component | 38% | 42% |
*A Center for Excellence in Teaching and Learning graphic outlines differences among the delivery modes in location, timing and interaction.
Lab, studio, experiential course sections
VanDerZanden said pandemic mitigation efforts, including lower room capacities and cleaning protocols, continue to impact the hands-on courses the university prides itself on. Many feature a structure that brings students into labs or studios in smaller numbers, supplemented with synchronous online time with the instructor. The important thing, she said, is that one-on-one time between instructor and student is occurring.
"Our faculty have done a great job finding that mix," she said. "Our College of Design faculty especially have done a fantastic job finding ways to use technologies to help with experiential learning. They may not be in a studio at the same time, but the students are showing their work and a faculty member is coaching them through a design process in real time."
According to data from the registrar's office, experiential learning this semester should look something like this:
Laboratory sections: 81% (837 of 1,030) offered face-to-face or with in-person components through hybrid or arranged offerings.
Studio sections: 85% (181 of 213) offered face-to-face or with in-person components.
Experiential course sections: 94% (190 of 203) offered face-to-face or with in-person components.
Computer labs
Many computer labs -- for the most part closed for fall semester -- are open for the spring semester, with reduced capacities. This includes computer labs and printing stations in the residence halls. Students and others who use the labs need to observe the posted capacity limits. They're also required to clean their workstation with the cleaning supplies provided when they are finished. Colleges and departments are monitoring these labs, and if cleaning and sanitizing practices prove effective, additional lab hours could open as the semester progresses.
Study spaces
This week, the room scheduling team shared an expansive list of smaller classrooms and building common areas available to students for indoor studying this semester. VanDerZanden said the spaces also provide an option for a few classmates in an online synchronous course to "attend" class together. Students don't have to reserve the classrooms, but they must observe physical distancing and wear face coverings. Occupant capacities and hours are posted on the 34 classrooms in 11 buildings; the 43 common spaces across 23 buildings are available during regular building hours.
Field trips
Out-of-class learning experiences of a few hours to a day were allowed during the fall semester, and the academic continuity working group, in collaboration with the public health working group, developed guidelines for overnight field trips this semester. VanDerZanden said this option is especially critical to some curriculums in the colleges of Design and Agriculture and Life Sciences, so it was important to restore overnight opportunities. The guidelines cover destination planning, transportation, housing and meals.
Student organizations
VanDerZanden said many student co-curricular opportunities were limited by safety protocols last fall. While the COVID-19 mitigation strategies remain in place, she said there is a new emphasis on encouraging students to safely interact with each other this spring.
"Across campus, we heard the concern from students -- and from faculty -- about the impact on students' social contact, so the working group has tried to be thoughtful about ways to pull that back in as much as possible while still following the safety protocols we have. We have to remain vigilant," she said.