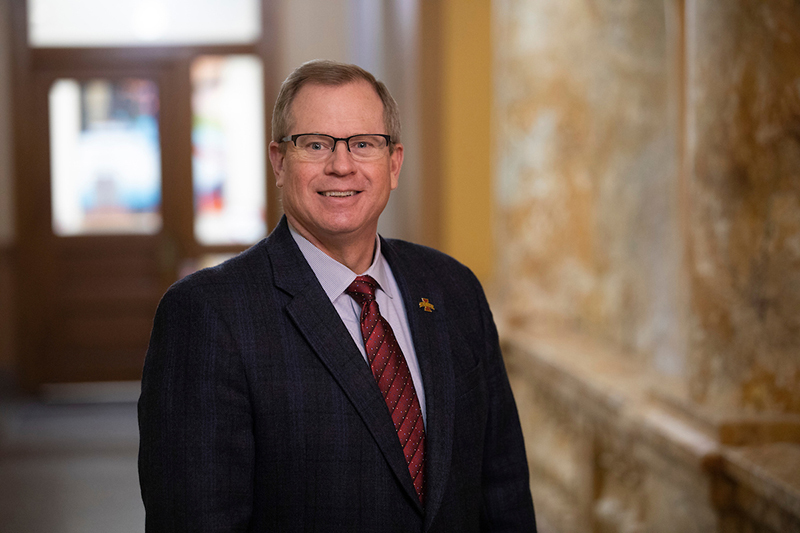 Peter Dorhout ("DOR-howt") arrived on campus Jan. 25 as Iowa State's vice president for research and a professor of chemistry. He comes to Ames from Manhattan, Kansas, where he served as vice president for research (2016-21) and dean of the College of Arts and Sciences (2012-16) at Kansas State University. He previously served for nearly 20 years on the faculty at Colorado State University, Fort Collins, including in leadership roles as an associate college dean for research and graduate education, vice provost for graduate studies and assistant vice president for research. He served as interim provost at the university's Pueblo campus in 2011.
Dorhout earned a bachelor's degree in chemistry from the University of Illinois, Urbana-Champaign, and a doctorate in inorganic chemistry from the University of Wisconsin, Madison. He previously worked on campus as a postdoctoral fellow at Ames Laboratory (1989-91), and was a research collaborator for two decades (1986-2006) with another U.S. Department of Energy facility, Los Alamos National Laboratory, New Mexico. His research specialties include thin film materials, environmental chemistry, and actinide and radiochemistry.
Dorhout was elected a fellow of two national societies: American Association for the Advancement of Science (2017) and the American Chemical Society (2013). He served as president of the latter in 2018.
Dorhout's office is in 2610 Beardshear, and he can be reached by phone at 515-294-1785, by email at dorhout@iastate.edu.