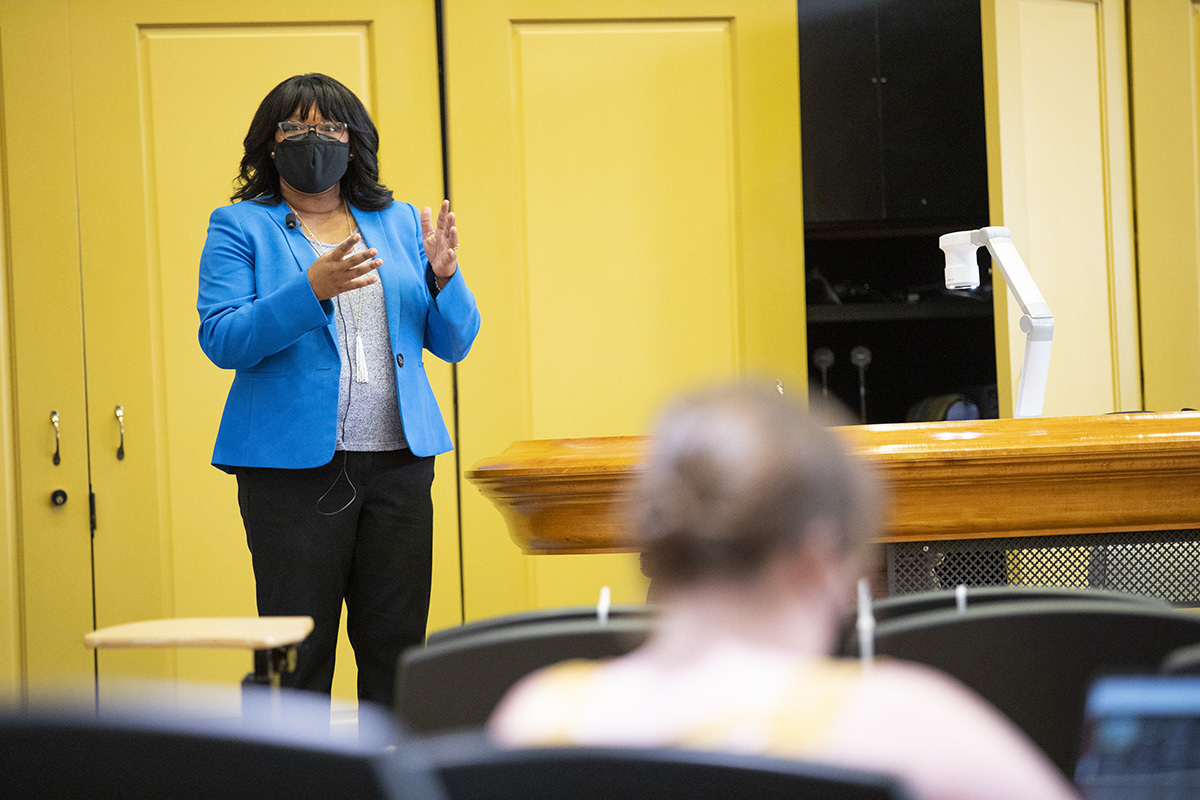 Monic Behnken's interdisciplinary course, Equitable Leadership, seems straightforward, but its goal is bigger than its title. Behnken, director of the leadership studies program, collaborated with the Program for Women in Space and Engineering (WiSE) to provide students a foundation to recognize groups that may be marginalized and to take an active role in their leadership.
"We are trying to change the face of leadership and when we think of it, what it looks like," Behnken said.
Having been active in leadership at Iowa State and in the Ames community, Behnken wants students to understand the way to equity is by being intentional in leadership practice. She is able to bring examples from her life to give lessons authenticity.
"The fact that this is happening in the midst of one of the most high-profile sociopolitical uprisings we have seen in our time is interesting," Behnken said. "I think it is an entry way to students who may otherwise have been resistant to the information."
The course
Designated a U.S. diversity course, it is offered to first-year female students majoring in a STEM field. Behnken worked with a graduate student Katie Friesen, a program coordinator with WiSE, last year to design the course.
"Many students are unfamiliar with the spectrum of identities that exist outside of small-town Iowa," said Behnken, who is teaching the course this fall. "The students are adjusting to people who use they/them pronouns or the variety of racial and ethnic backgrounds that exist on campus."
The class meets twice a week, first as a group for guest speakers or discussion. The second class period sees the 60 students divided into groups where peer facilitators -- often members of last year's class -- lead discussion topics to foster growth.
Speakers include the Rev. Eileen Gebbie of the United Church of Christ, Margaret Sloss Center for Women and Gender Equity director Sandra Looft, Iowa State artist-in-residence Tiffany Johnson and Ames Community School District superintendent Jenny Risner. Behnken selected the speakers not only for their expertise, but because they represent a different side of leadership than the traditional perception: white males.
Leadership is about how to interact with people, inspire a team and work with individuals who have different values, Behnken said.
Important discussion
Creating a safe and welcoming environment is key and a major reason the class is conducted in-person with a synchronous Webex feed.
"It is not about confrontations or forcing people to hold beliefs, but having conversations about the identities that I am less familiar with or open to learning about," Behnken said.
There are topics covered that are not easy for everyone to talk about or accept.
"Students may be excited to learn about race and ethnicity, but part of that learning has to come with understanding the related LGBTQ identities that come along with that," Behnken said. "Society is very much focused on race and ethnicity, but there is still resistance to people who hold LGBTQ identities."
The course helps students determine how to work effectively with people who have different identities than their own.
Behnken surveyed the students on the course's content and received positive feedback. They like addressing issues and appreciate being able to have difficult conversations, she said.
"Iowa State and the provost's office are putting students in a position to be successful in the modern world," Behnken said. "Every person who holds a leadership position is having these conversations right now around equity, access, race and ethnicity. What they are finding is that their staffs lack competency because they just don't know."