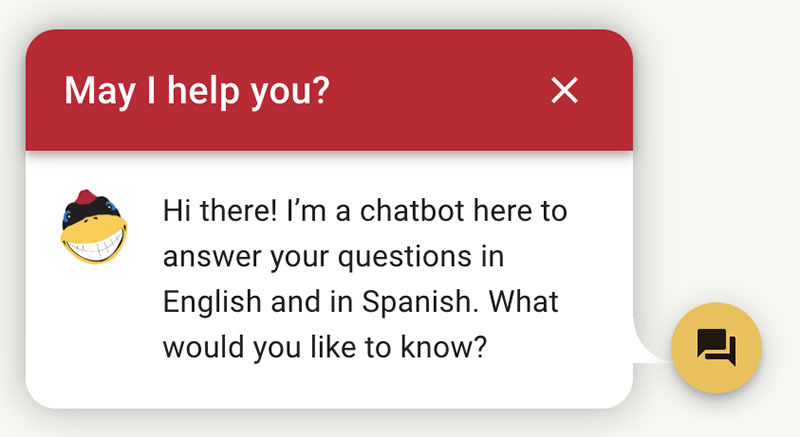 Have a question? Just ask Cy. Iowa State's mascot is the face of a "chatbot" virtual assistant deployed this month on several student-focused websites to help users find answers to common questions.
The chatbot project is funded in part by the University Innovation Alliance (UIA), a collaboration of public research universities working to help more students graduate. Darcie Sprouse, Iowa State's UIA fellow, is managing the project.
"The funding for this project came from our membership in the University Innovation Alliance which gives us an opportunity to focus our efforts on increasing retention and graduation of first-generation and low-income students," Sprouse said.
Interactive technology
Current and prospective students (and their families) are the target chatbot audiences. The interactive chat feature debuted on the registrar, financial aid and accounts receivable websites and is being added to the admissions, residence and Veterans Center sites. The chatbot can converse in English and Spanish, with more languages -- Mandarin Chinese, for example -- on the way, Sprouse said.
"The chatbot allows students and families to ask questions 24/7 about financial aid, admissions, housing and student accounts," Sprouse said. "The goal of the chatbot project is to better meet students where they are and provide quicker and easier access to information."
A pop-up window with a smiling mugshot of Cy and a "May I help you?" invitation appears in the lower right corner of the participating websites. The machine learning software interacts conversationally to address routine inquiries, including answers customized for Iowa State. The chatbot vendor, Ocelot, also provides a video library resource with short tutorials to help with financial aid inquiries.
Participating offices receive transcripts of the anonymous sessions to monitor the volume and subject matter of the inquiries. If the chatbot can't answer a question, users have the option to provide contact information for the appropriate office to follow up during regular business hours.
"What we've noticed so far is that the 'I don't know' questions are usually related to offices or topics outside the participating departments," Sprouse said.
Virtual answer center
The online chatbot replaces the Student Answer Center, which was located in the ground-floor atrium of Beardshear Hall. The student financial aid office closed the physical location in December.
"The Student Answer Center was underutilized, and in the 20 years since it was installed, technologies have changed significantly such that students are rarely seeking answers in person to generalized questions," said Roberta Johnson, director of student financial aid.