Reiman Gardens will feature two main exhibits this year, both representing its 2020 theme "Wild and Whimsical."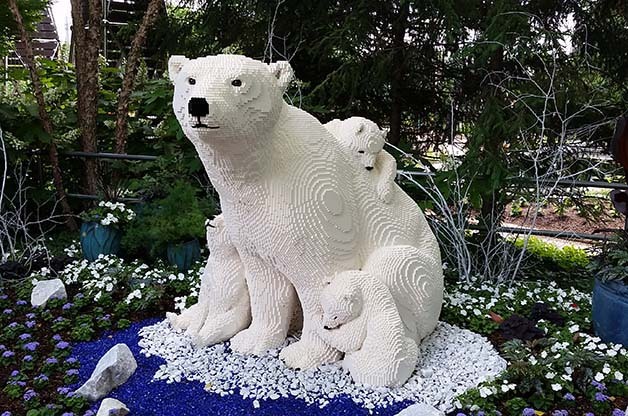 The first exhibit is the newest and final installment in "Nature Connects: Art with LEGO Blocks," which depicts the natural world in sculptures -- often larger-than-life -- constructed entirely from LEGO bricks. The exhibit includes 12 portrayals of threatened, endangered and extinct animals from around the planet, from a monarch butterfly on a milkweed plant to a family of polar bears. The sculptures will be on display in the outodoor gardens May 16-July 5.
The Nature Connects series, created by New York artist Sean Kenney, was developed and is owned by Reiman Gardens, which leases the exhibits to public gardens and zoos across North America. Reiman Gardens hosted other Nature Connects exhibits in 2012 and 2016.
A second exhibit opening July 8, "Ribbit the Exhibit," will feature 10 scenes of human-sized frogs reflecting human personalities and interests, including biking, meditating and striking the pose from the classic Grant Wood painting "American Gothic." North Carolina artist J.A. Cobb created the copper sculptures, which will be exhibited in the gardens until Oct.4.
The "Magical Fairy Woodland" display that opened in Hughes Conservatory in January also is based on the Wild and Whimsical theme. Tiny plants in pastel hues create a fairy-friendly atmosphere wee folk of all kinds will enjoy. The fairy woodland display is open through March 14.
In the Garden Room Gallery, "The Great Outdoors," a collection of photos from the Des Moines Camera Club, is on display through late March. April through June, the gallery will feature "Whispers of Autumn," paintings by Iowa artist Autumn Rozario Hall that combine acrylic and mixed media with pieces of trash and natural objects found on hikes throughout Iowa's parks.
Reiman Gardens is open daily 9 a.m.-4:30 p.m. Admission is $9 for adults, $8 for ages 65 and older, $4.50 for ages 2-12, and free for members, active-duty military and ISU students.