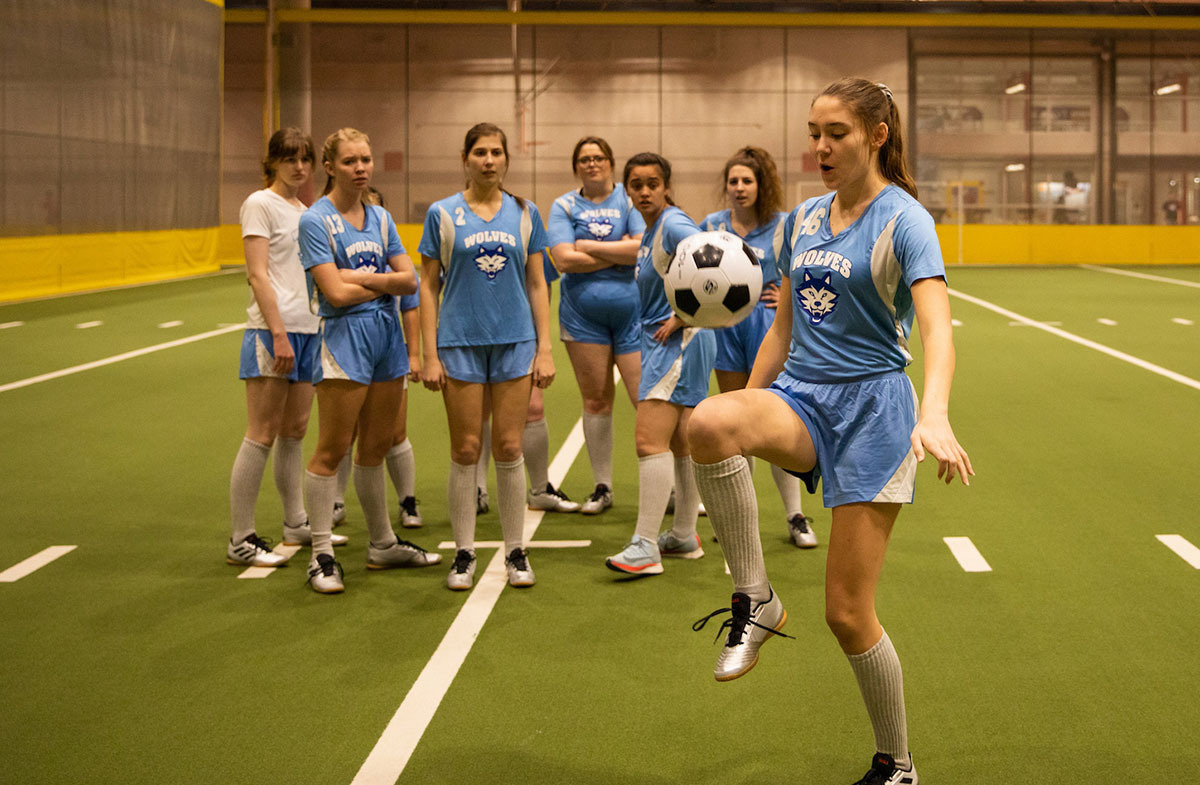 What happens inside the warm-up circle of a competitive high school girls soccer team? ISU Theatre's "The Wolves" invites audiences to eavesdrop on teenage conversations both profound and hilarious as a soccer team navigates big questions and wages tiny battles during six weeks of practice.
A 2017 Pulitzer Prize finalist in drama penned by Sarah DeLappe, "The Wolves" opens its two-weekend run Feb. 28 as part of ISU Theatre's 2019-20 "HERoic" season of shows written by women. The production's all-female ensemble portrays nine players, known by jersey numbers rather than names, and one "soccer mom."
"A lot of the shows we create at Iowa State have an ensemble cast, but it's rare for it to be written into the script," said Taylor Millar, a 2017 performing arts alumna and the show's guest director. "Every character is onstage for almost the entire show. Not very often do we see a team portrayed on stage, other than when we create it."
On a surrealist soccer field, created by scenic designer and ISU alumna Eleanor Kahn, the team faces the awkward transition from adolescence to maturity.
"When I read the script for the first time, it was a lot of nostalgia about being naïve and the experience of growing up," said senior Jillian Kurovski, who plays the role of No. 14. "It brought me back to memories of the struggles of being a teenage girl."
Panel discussion
ISU Theatre will present a panel discussion, "Diversifying the Wolfpack: Championing Gender Equity in the Arts and Athletics," on Sunday, March 1 (3 p.m., 004 Scheman). Community members are invited to enjoy refreshments and a roundtable discussion with local, regional and national artists and scholars as part of ISU Theatre's yearlong symposium series, "HERoic: Gender Equity in the Arts."
Tackling tough timing
To mimic teenage conversations, the show employs rapid-fire, overlapping dialogue with conversations that ricochet from tampons to the Khmer Rouge.
"Knowing when to say the line at the right moment and getting into the rhythm of saying the lines has been a challenge," said sophomore Opal Rustad, who plays the bubbly, conflict-averse No. 8.
"Every time you see it, you'll want to listen to a different conversation," Millar said. "Come for the dialogue. Come for the discoveries you'll make."
The teenage drama is both intense -- the show contains an advisory for adult language and mature content -- and endearingly comedic.
"I don't think people typically think high school girls are very funny, but they say so many things that are hysterical and deep," Millar said. "They talk about real-life issues, and they're not uninformed."
Soccer drills on stage
Portraying a soccer team on stage required the cast to learn basic soccer fundamentals, as well as build their physical stamina. Millar brought in a friend to teach both soccer drills and team dynamics.
Sophomore Abi Fisher plays the team captain. She said the cast's journey to learn soccer together has been an "adventure."
"A lot of us have never played soccer before," she said. "We learned some passing drills and started feeling more and more comfortable with the soccer ball. We had a rule that for every runaway ball during our warm-ups and run-throughs, we had to run one lap around the theater. It got our focus on point!"
Life lessons
Senior Ellie Seaton, who plays No. 7, a drama-causing bully, said she hopes audiences learn: It is OK to cringe at their past selves.
"Nobody grows up having done absolutely nothing that they will regret later," she said. "Life is really about how you change and grow. No. 7 starts the show not knowing how to play well with the others. By the end, she has been put in situations that make her more mature."
Theater and athletics both offer lifelong lessons, Millar said.
"Theater makes you better at a million different things," she said. "Whatever you do, it's always a really important part of your life's journey. This isn't to get better at theater. It's to get better at life."
Show information
"The Wolves" evening performances are Feb. 28, 29 and March 5-7 at 7:30 p.m. A matinee will begin March 1 at 1 p.m. All performances are in Fisher Theater.
Tickets ($20 for adults, $18 for seniors and $10 for students) are available through the Stephens Auditorium ticket office, Ticketmaster or the Fisher Theater box office prior to performances.