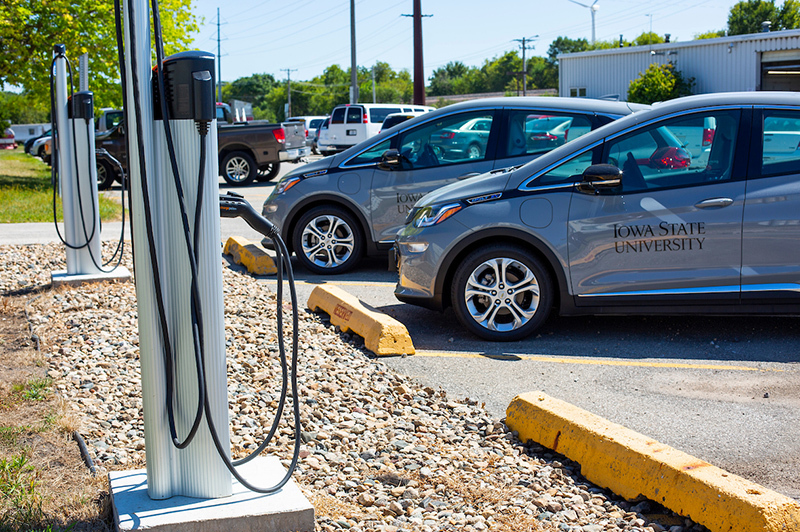 Two electric vehicle charging stations, each equipped with two charging lines, were installed in transportation services' lot in the northeast corner of campus this summer. Employees who commute to work in electric vehicles are welcome to charge their vehicles during business hours (7 a.m.-4 p.m.). They'll use the smart device app ChargePoint (iPhone and Android) to pay for their charging time at the bargain rate of $1 per hour, Iowa State's standard parking meter rate.
Transportation services, which recently added two Chevrolet Bolt hatchback electric vehicles to its fleet, will use the charging stations overnight. The fleet also includes a pair of Toyota's Prius Prime hybrid sedans.
ISU Parking is using operating revenue to cover the cost to install and lease the charging stations for an initial five years. Parking director Mark Miller said he receives a few inquiries a year about an electric vehicle charging option on campus, and called it a "chicken-egg type of thing."
"People are a little reluctant to invest in an electric vehicle without some reassurance they'll be able to keep it charged. We've been uncertain about the cost effectiveness of installing charging stations, not knowing how many drivers might use it," Miller said.
This pilot program will give his staff time to assess any change in demand for on-campus charging stations.
Plug-in hybrid vehicles, with both gasoline and electric motors, also can be charged at these stations. Four hours is the requested charging limit per vehicle to give more drivers access.
Driving electric
Transportation services director Kathy Wellik said the Bolt electric vehicles are a good choice for trips to locations such as Des Moines or Fort Dodge. While the stated range of a fully charged vehicle is about 220 miles, she said air conditioning or radio use can reduce that. The cars also are an option for longer trips with a charging option at the destination, for example, the University of Iowa campus. Wellik said her staff will help drivers plan their trips and find charging stations, if needed.
Clark Colby, communications and creative arts program specialist for the 4-H program, drove a Bolt most days to the Iowa State Fair in Des Moines last month, charging the vehicle overnight every other day. He said he was reluctant to check out a Bolt for a meeting in Cedar Rapids -- and regretted it when he spotted a charging station near his meeting location.
Colby likened it to driving "an exciting little gocart, but a very quiet one with a ton of room for hauling stuff."
He noted that the driver constantly can view the car's anticipated range based on the available charge.
Transportation services leases the Chevy Bolts at its midsize vehicle rate, $25.90 per day plus 37 cents per mile over 70 miles ($17.35 for a half-day rental).
To request an electric vehicle in the university's online reservation system, users should choose "electric" in vehicle type. All electric car selections automatically go into pending mode so a staff member can confirm the destination and suitability of a Bolt for the distance. First-time requesters receive a phone call or email as a courtesy, Wellik said, to confirm their electric car selection.