Sarah Nusser has announced she will complete her service as Iowa State's vice president for research (VPR) at the end of the current fiscal year.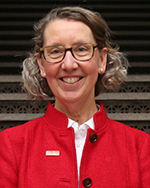 Nusser, a professor of statistics, has served as VPR since February 2014, and earned reappointment earlier this year. During her tenure, she increased the university's external research funding, including a record $261 million in FY2019. She also launched the Grants Hub to assist researchers with large-scale proposals and new funding opportunities, and worked to diversify both governmental and nongovernmental funding.
"Serving as vice president for research has been immensely rewarding. I appreciate the tremendous ideas and energy put forth by our campus researchers, as well as the partnerships among our office, colleges and collaborating units to advance Iowa State's research mission," Nusser said. "I look forward to working with my successor to continue our momentum and achieve even greater results in the future."
Once her service as VPR is complete, Nusser plans to seek a fellowship in Washington, D.C., where she will continue to work on policy issues related to public access and transparency for academic research during the 2021 fiscal year.
"Sarah continues to do an outstanding job leading Iowa State's research programs," said senior vice president and provost Jonathan Wickert. "She is a tireless advocate for interdisciplinary research who has improved not only funding, but also the service offered to faculty and staff across the institution, and I am extremely thankful for her efforts."
National search
A national search for Nusser's successor will begin in the coming weeks. The provost's office is accepting nominations for the search committee, which will include students, faculty, staff and external stakeholders. Suggestions should be sent to Julie Johnston, jham@iastate.edu, by Friday, Oct. 4.
The committee will begin soliciting candidate nominations and applications later this fall, with a target of spring 2020 for on-campus finalist interviews. A search firm will assist the committee with its work.
Nusser joined the Iowa State faculty in 1992. She earned bachelor's and master's degrees in botany from the University of Wisconsin, Madison, and North Carolina State University, Raleigh, respectively, and master's and doctoral degrees in statistics from Iowa State.