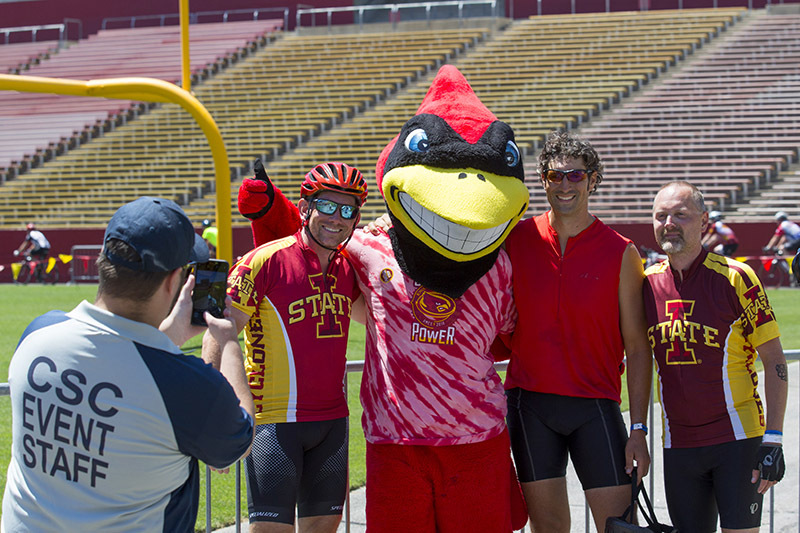 Thanks to picture-perfect weather and a picture-perfect setting, the Cyclone Loop was a popular cap to the third day of the Register's Annual Great Bicycle Ride Across Iowa (RAGBRAI). Ames hosted the hordes of state-crossing cyclists for an overnight stop Tuesday, following a 62-mile day that gave riders the option of taking a spin around the field inside Jack Trice Stadium. Here are a few comments overheard in the loop.
Variations on wow
Cyclists entered the stadium's field level through the tunnel in the northwest corner, the same spot where the football team emerges for games. There were lots of wide eyes and grins when bikers turned the corner at the end of the tunnel to catch their first glimpse inside the stadium. "Wow" was a common sentiment, in many forms:
"Oh. My. God. Wow!"
"Oh wow, that's ... wow!"
"Wow! Wow wow wow wow!"
It says 1,000 words, after all
Many of the riders came down the tunnel holding up their phones, shooting video of the inspiring entrance. "The best photo op of the week," one said as he approached. The first thing most riders did after arriving was stop to get a selfie. Not everyone got the message, though: "Hey, we need to get a picture here," one rider shouted to her companions speeding ahead toward midfield. "Hey! Hey!!! Picture!!!"
Field level fun
The unpainted turf was cordoned off, but most riders never get a chance to be so close to Jack Trice's playing surface. That prompted some remarks about the field:
"I've never actually been here before. I'm shocked that it's actually grass."
"It's shorter than I thought it would be. Is it always that short?"
Of course, there are jokers in every crowd:
"Is this where they play tennis?"
"Do we get a scholarship for this?"
Sigh, Hawks...
Cyclone jerseys were a widespread choice on Tuesday, and impromptu cheers frequently broke out, along with the occasional fight song singalong. But get a bunch of Iowans together, and there's bound to be some Cy-Hawk ribbing. One rider had the Iowa fight song cued up on a portable speaker, not nearly as polite as the U of I fan who said: "Sorry, but go Hawks! Sorry!" A cyclist joked to his companion wearing a Hawkeye jersey: "Your legs will probably burn when you hit the field." Another wondered how Friday's overnight stop could possibly compare: "This is a very cool idea. Iowa City's going to have to step it up."