University Professor of agricultural and biosystems engineering Steve Freeman will continue to serve as faculty adviser to the president. His half-time, three-year appointment took effect July 1.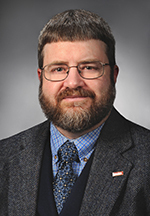 Freeman has served in the post since July 2013, when former President Steven Leath created a quarter-time position and later expanded it to 0.75 time. Ben Allen made it a half-time appointment during his interim presidency.
"I appreciate Steve's willingness to continue serving in this important role," said President Wendy Wintersteen. "He brings good perspective and a thoughtful, detailed approach to navigating complex issues."
Freeman's duties in the president's office include:
Advise the president on faculty, staff and student grievances and appeals that reach the president's office
Supervise the ombuds office
Serve as a president's office representative on the university's athletics council, which he currently chairs
Other duties as assigned