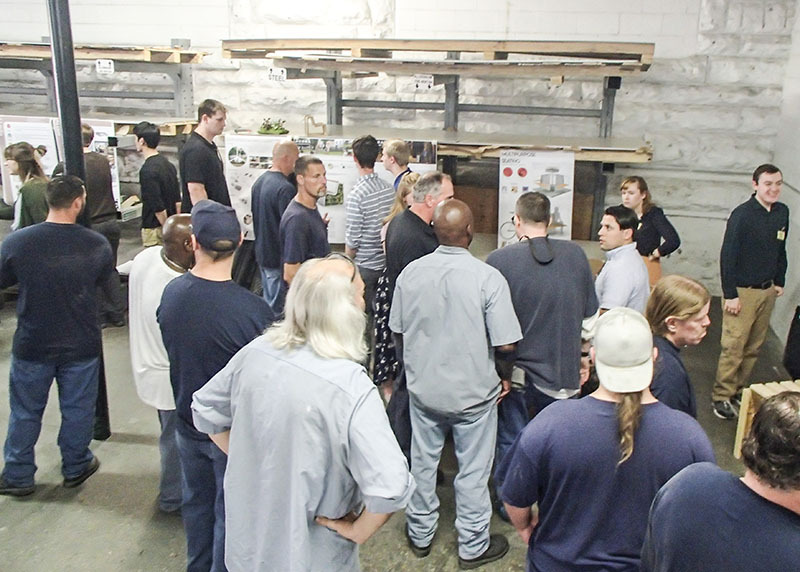 Two student design concepts are a step closer to reality, thanks to Iowa State's expanding partnership with Iowa Prison Industries (IPI). Six undergraduate teams in Dan Neubauer's industrial design studio course (IND 592) this summer developed commercial product ideas that use recycled road signs and repurposed wood.
IPI director Dan Clark said cities and counties across the state send their retired and damaged road signs back to the Anamosa State Penitentiary, where they were originally produced. The signs -- from large overpass signs to small speed limit signs -- can be ground down and resurfaced or recycled for other uses.
The challenge for the student teams was to incorporate the used metal signs in designs for public-space furniture. Repurposed wood -- for example, fallen and diseased trees -- and reclaimed steel posts/supports that held the signage also were available for use.
"IPI's given us access to its manufacturing facilities and the opportunity for students to learn how to make commercialized products," Neubauer said.
Lots of learning
Neubauer, who was an IPI intern seven years ago, launched this summer's inaugural course that packed a lot of learning into a short amount of time.
The students made two road trips to the northeast Iowa penitentiary, where offenders will manufacture the items on site. The first trip familiarized students with the fabrication equipment available. The teams presented their initial designs during the second trip, getting production and usability feedback from offenders and IPI personnel.
"We do a lot of collaboration with Iowa State," Clark said. "One of the ways we love to engage is on the academic side."
Moving forward

Clark and his IPI team chose two of the concepts for further development. Bench and trash bin designs were selected for their commercial appeal. The items could be added to IPI's product catalog for customers that include cities, universities, parks and other public agencies.
"Everybody immediately loved these," Clark said. "These teams will work in more detail with our design people about how we're going to manufacture the items."
The bench concept features optional side panel inserts, one of which could be a vertical garden. The angle of the bench seat is designed to channel rainwater off it and into the garden. The concept also leaves the back of the bench open for various uses, such as bike racks or planters.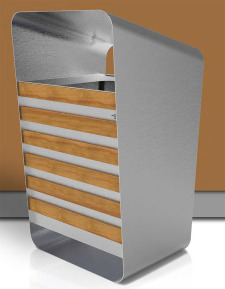 The proposed trash bin would house a typical 32-gallon garbage can, shaping repurposed large signs into a metal receptacle. The front access panel of the bin can be customized with a wood overlay, custom logos and "raw" signage, such as a speed limit sign. The student team developed the concept as a mid-level price option IPI's current catalog lacked.
"We're not huge, we won't sell millions of them, but the students can say they had something built and sold commercially," Clark said.
IPI partnerships
Several campus units and departments partner with IPI. For example, IPI produces design concepts developed in furniture design studio and apparel production management classes. Many of the furnishings in ISU residence halls and apartments also are IPI products.
"This is the first one we've done with industrial design," Clark said. "We'll be doing a lot more with these folks."