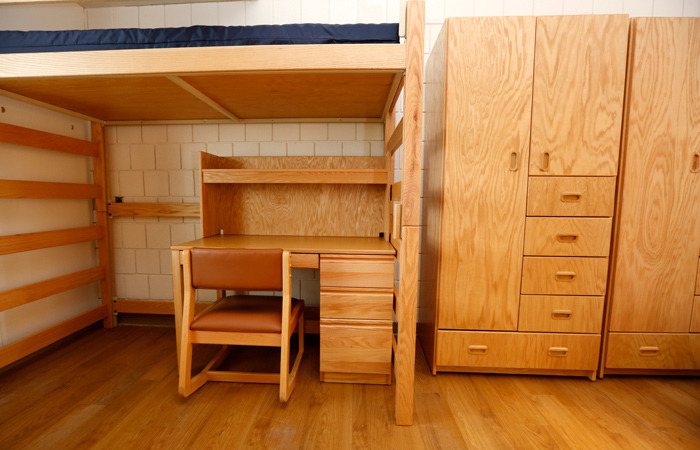 In a few weeks, students and parents will begin turning residence hall rooms into homes. They'll empty contents of overloaded boxes into drawers and closets, toss bedding on lofts and plop onto desk chairs for occasional breaks.
The backdrop to these move-in activities in every residence hall room across campus will be thousands of sturdy oak furniture sets. Those desks, chairs, lofts and wardrobes were crafted by inmates of the Iowa State Penitentiary in Fort Madison.
The residence hall furnishings, well-made and competitively priced, are the result of a successful, longstanding collaboration with Iowa Prison Industries, said Norm Hill, director of central stores.
It's a collaboration that dates back to the late '90s, when, in a competitive bidding process, Prison Industries was awarded the furniture contract for the remodeled Maple Hall. Inmates built and installed the Maple Hall furniture and, shortly thereafter, did the same at Hawthorn (now Frederiksen) Court. Prison Industries has supplied nearly every piece of furniture installed in residence halls since. And, in recent years, it's been providing cleaning supplies and trash liners as well.
There are good reasons to partner with Prison Industries, Hill said.
"We're encouraged to partner with other state entities. We're creating rehabilitation opportunities for men and women," he said. "But we don't do this just to be nice. It's a business decision for us. They're good and competitively priced."
Dorm durable
Roger Sebring, purchasing agent in the department of residence facilities services, said the oak and oak veneer furniture coming out of the Fort Madison workshop is high quality and typically lasts 10 to 14 years.
Recent residence hall projects with Prison Industries include 536 standard sets (loft, desk with bookcase, chair and combo wardrobe-dresser) that are being installed in Larch Hall. Before summer's end, another 395 sets, slightly modified for apartments, will be installed in University West, the most recent off-campus facilities that will be leased and operated as on-campus housing during the coming academic year.
Next year's plans call for 784 more sets for the new residence hall that will be constructed east of Buchanan Hall.
Green solutions
At the Iowa Correctional Institution for Women, Mitchellville, inmates make most of the green cleaning products used throughout campus. They blend chemicals, then bottle and label the cleaners, all of which carry Green Seal certification, a sign of an environmentally sound product.
"The cleaners are a highly effective, green solution for the university," Hill said. Workers at the Mitchellville facility also make Iowa State's biodegradable trash liners and launder mop heads and rags used by ISU custodial services.
Teri Sieve, facilities manager of custodial services, said the people and service make Prison Industries "exceptional partners" to Iowa State. "If we have a problem, they go above and beyond to assist us in finding a solution."
Prison Industries: How it works
"Iowa Prison Industries is self-funded," said Robert Fairfax, director of Prison Industries sales and marketing. "We have to operate like a regular business dealing with our customers."
However, Prison Industries can't compete with the private sector. By state law, it only can sell its products and services to government agencies, school districts and nonprofit groups.
Inmates like to be part of the Prison Industries program, Fairfax said, and they have to work to get in. They must apply, interview and undergo training to secure a job. Of 8,800 inmates statewide, 600 to 1,000 are involved in Prison Industries annually.
"The work we do for Iowa State creates millions of work hours yearly for offenders," Fairfax said. "Iowa State has been one of our most important customers since our inception. ISU officials understand the value of our program -- to teach prisoners hard skills and soft skills so they can go back and be productive."