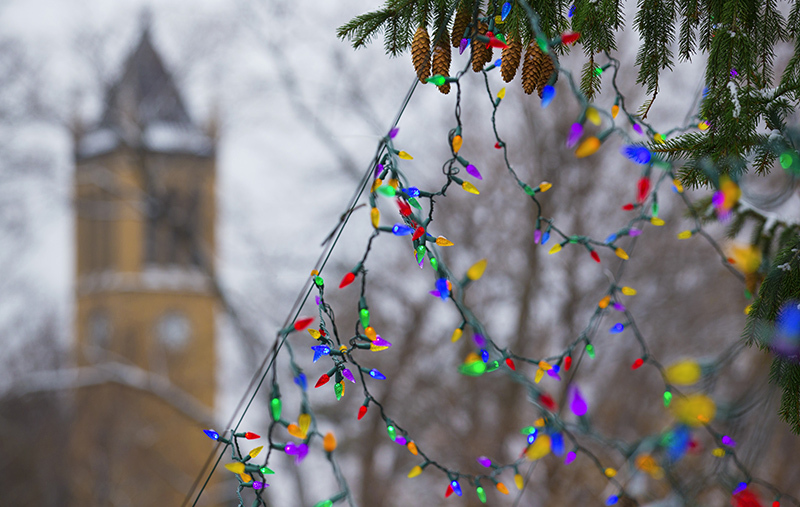 This week's warm temperatures may not feel like it, but winter is coming. Instead of dreading it, why not embrace it? Slip on some mittens and a hat (or maybe shorts and flip flops will suffice) and enjoy the blizzard of activities planned for WinterFest 2017 on Dec. 1. Events are free (unless indicated) and open to all.
Following is a synopsis of this year's festivities; some activities extend beyond Dec. 1 and are noted. No open house at the Knoll is planned this year due to the presidential transition and ongoing construction at the home. The event is slated to return next year.
Holiday kick-off sale (8 a.m.-7 p.m., ISU Book Store, Memorial Union), faculty and staff who show their university ID will receive a coupon for 40 percent off one ISU apparel item (from 4 to 7 p.m.), other discounts throughout the store
Art Mart holiday sale (Nov. 30, 10 a.m.-6 p.m.; Dec. 1, 10 a.m.-6 p.m.; Dec. 2, 10 a.m.-1 p.m., MU Campanile Room), pottery, blown glass, jewelry, photography, accessories, $5-$25 (proceeds benefit the artists, Workspace and Gaffers' Guild)
Andy Albright Jingle Jog 5K (3-5:15 p.m. registration, MU Multicultural Center; race begins at 6 p.m., front of Beardshear Hall), $20
Seasonal beverage sampling (4-7 p.m., MU Market & Café), flavors include candy cane white mocha and egg nog latte
Cards for kids (4-8 p.m., MU Cardinal Room), cards will be distributed to inpatient units and residential homes of ChildServe
Campanile tours and carillon music (4-7 p.m., campanile), led by university carillonneur Tin-Shi Tam
Holiday crafts (4-10 p.m., MU Workspace)
Chair massages (4-10 p.m., MU Gold Room)
Bowling and billiards (4-10 p.m., MU CyBowl and Billiards)
Karaoke and button making (5-8 p.m., MU Gallery)
Bingo (5-9 p.m., MU Pioneer Room)
Photo booth (5-9 p.m., MU Main Lounge)
Tree lighting ceremony (5:30 p.m., steps of Beardshear Hall), President Wintersteen and leaders of student organizations will speak
Photos and photo snow globes with the Snow Princess and Ice Queen (6-8 p.m., MU Multicultural Center)
Chili, corn muffins, cookie decorating and hot chocolate (6 p.m., MU Trophy Tavern)
Carriage rides (6-9:30 p.m., pick up north side of MU)
Yoga classes (6-9 p.m., State Gym)
Scavenger hunt (6-9 p.m., State Gym, Beyer Hall, Lied Center), find clues on recreation services' Instagram, @isurecservices
"Just Dance" video game (6-9 p.m., MU Maintenance Shop)
Cyclone Cinema, "It" (7 and 10 p.m., 101 Carver)
Concert, Judah & The Lion, with Wilder (8 p.m., MU Great Hall), $25 ($15 for students)
Ice skating (10 p.m.-2 a.m., Ames/ISU Ice Arena), free for the first 1,000 participants, $3 per person after that
Support student organizations
The Horticulture Club is holding a poinsettia sale Nov. 30 (10 a.m.-4 p.m., ground floor, Beardshear Hall), Dec. 1 (10 a.m.-4 p.m., entrance to ISU Book Store, MU) and Dec. 2 (10 a.m.-4 p.m., main hallway, Reiman Gardens). Poinsettias are available in two sizes -- a 6.5-inch pot for $12 and a 10-inch pot for $32.
The Forestry Club is selling trees and wreaths in the parking lot of Reiman Gardens on the following days:
Dec. 1, 8 (3-6 p.m.)
Dec. 2, 9 (9 a.m.-5 p.m.)
Dec. 3, 10 (noon-5 p.m.)
Trees include Fraser and balsam firs and Scotch and white pines. Prices range from $30 to $60. Balsam fir wreaths -- 24 or 30 inches, decorated or undecorated -- are $20 to $30.
Block and Bridle Club is raising funds through its annual holiday sausage and cheese sale. To place an order, print an order form and mail or drop off at 120 Kildee Hall by Dec. 6. Email Larissa Becker, Taylor Conley or Shoki Hirano with questions or to place an order.
The College of Design Art Club (CODAC) is sponsoring an art sale Dec. 6, 7 and 8 (10 a.m.-4 p.m., foyer outside dean's office, College of Design) featuring art pieces by Design undergraduate and graduate students. Media include ceramics, prints, photos, wood and textiles. Prices range from $5 to $150.