Senior vice president for student affairs Martino Harmon has created a university office dedicated to race and ethnicity training and programming. It will include coordinating the Thomas L. Hill Iowa State Conference on Race and Ethnicity (ISCORE), held in March, and Iowa State's participation in the annual National Conference on Race and Ethnicity (NCORE), held in early June.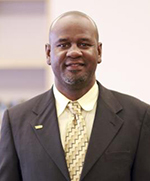 Japannah Kellogg, who has served as director of the federal TRIO Student Support Services program since 2003, is the first director of the NCORE-ISCORE project office. Kellogg has been involved with the two conferences since his arrival on campus in 2000 as a multicultural liaison officer in the College of Liberal Arts and Sciences.
For the last 13 years, Harmon noted, coordinating the conferences consumed about one-third of Kellogg's time, even though officially that effort was buried in the "other duties as assigned" piece of his job. Discussions about creating a separate office go back several years.
"Not many schools have what we have now," Martino noted, "but we wanted to do more, to make this part of the university structure and not a side gig. The demand from those who want to participate in the conferences, the need for more training, the desire to create more partnerships between student affairs and the colleges, all drove this."
While Kellogg's history with, and passion for, NCORE-ISCORE made him an obvious candidate for the job, Harmon also praised the efforts of hundreds of campus volunteers over nearly two decades.
"We've reached this stage in our evolution because of the contributions of many, many volunteers," Harmon said, "and we'll still count on their help moving forward."
Great students
Kellogg first became aware of Iowa State at an NCORE he attended on behalf of a Minnesota university.
"I was really impressed with the pockets of Iowa State students I met at that NCORE. The project drew me to Iowa State," Kellogg said. When a job opportunity came on campus, he took it.
Harmon and Kellogg agreed that conversations about race and ethnicity are among the most difficult to have. Formalizing a project office should create more opportunities for those to occur, they said.
Kellogg is enthused about the possibilities.
"We have some history now, we know what's worked and why. But there are things we haven't tried, some value-added ideas," he said. "We'll create the structure so the project has its own legs if we take [Japannah Kellogg] out of the equation, if we take a few really loyal volunteers out of the equation."
Harmon outlined these plans for the NCORE-ISCORE project office:
Two staff members, Kellogg and an assistant, plus student employees
An office in 3219 Memorial Union
An unwavering commitment to student development and leadership
A collaborative partnership with the office of the vice president for diversity and inclusion, to strengthen programs and avoid duplication
Enhancements to the NCORE and ISCORE offerings, such as professional development for more faculty and staff
New programming -- for example, a smaller version of ISCORE that includes the Ames community
Training for a group of students who would provide peer-to-peer education on race, ethnicity, diversity and inclusion
The inaugural ISCORE was held in March 2000, to share and build on Iowa Staters' experiences at the 12th annual NCORE the previous summer. ISCORE attendance has grown each year. And last June, Iowa State sent its largest delegation of students, faculty and staff (80) to the national conference.
Rob Lipsey, a program adviser in Student Support Services, began serving as interim director of the office on Nov. 20. Kellogg's transition to his new position will conclude by the end of December.