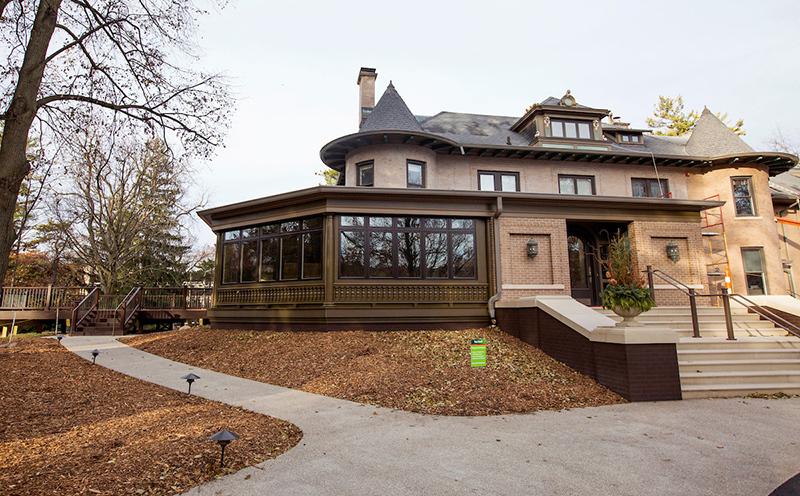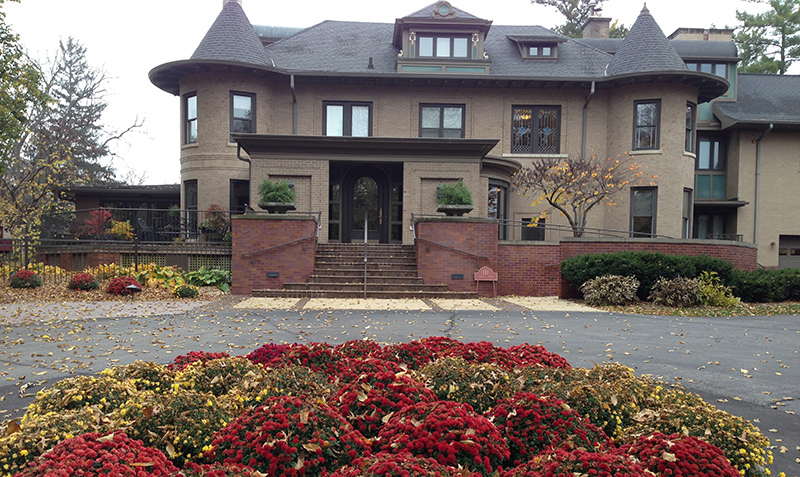 The university's annual WinterFest celebration Dec. 1 will not include an open house at the Knoll, due to ongoing repairs, routine maintenance and restoration. The homemade cocoa recipe of former first lady Ellen Parks (1965-86) has become part of the holiday tradition at the Knoll in the last decade, and President Wendy Wintersteen assures attendees that it will be back in 2018.
Wintersteen begins
Other coverage of new President Wendy Wintersteen in this week's edition of Inside Iowa State:
Wintersteen and her husband, Robert Waggoner, expect to move into the Knoll, the campus home for Iowa State's first family, sometime in December. Actually, it's a required condition of her appointment. They plan to sell their Ames home, which overlooks Veenker golf course.
Ongoing work
In the past year, a four-season room was added to the south side of the Knoll, along with new stairs and a wheelchair-accessible ramp to the front door, projects initiated in 2016 by former President Steven and first lady Janet Leath. Several periodic maintenance projects also are underway or in planning. Tuck pointing of the exterior walls will wrap up in December, and the roof is due for replacement in the spring. The home's boiler will be replaced next summer.
"Anyone who lives in an older home knows of the challenges in terms of maintenance and upkeep," Wintersteen said. "While Robert and I are required to live in The Knoll, we understand it's more than just the president's house, it's a very special, historic space for the university. We're excited to host events and gatherings there for members of the Iowa State community and friends and supporters of the university."
The Wintersteen-Waggoner move in will be coordinated around maintenance work and updates to the private residence on the second and third floors of the Knoll, which include painting, carpeting, some electrical and wood work, and updates to the private kitchen. The cost of the work is estimated at $150,000.
On Oct.19, the state Board of Regents gave Iowa State permission to begin work on an evolving list of improvements estimated to cost up to $750,000. Four days later, Wintersteen was named Iowa State's 16th president and dramatically pared back the project.
"The suggested list of improvements was extensive. Given the budget situation at Iowa State, it simply wasn't appropriate," she said.
The Knoll was completed in 1901, with additions made in 1922, 1967 and 2001.
The Knoll: Summary of recent improvements
Periodic maintenance needs
Tuck pointing (fall 2017)
Replace roof (spring 2018)
Replace boiler (summer 2018)
Funding: University funds, estimated $535,000
Exterior renovations to the public spaces (essentially complete, 2013-16 requests approved by State Board of Regents)
Replace southeast deck with a four-season room
Replace front entry and wheelchair-accessible ramp
Add south deck off of garden/dining room
Remove small west deck
Replace and add sidewalks and lighting (improved accessibility, safety)
Replace plantings, update landscaping (multiyear plan wrapping up in spring 2018)
Funding: Private gifts to ISU Foundation, $835,000
Interior maintenance and updates to the private residence on the second and third floors, as part of the presidential transition. President Wintersteen reduced the scope of work to:
Painting
Replace carpet
Updates to 2001 private kitchen: renovate island, replace appliances, update fireplace
Replace hallway light fixtures
Replace bathroom fixtures
Funding: Non-general fund sources, estimated $150,000