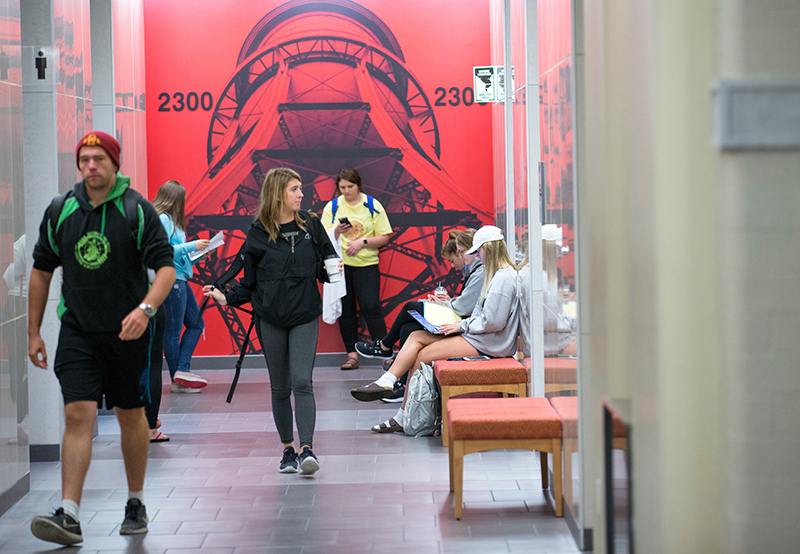 A two-year, $27 million interior gutting and rebuilding of Marston Hall has earned a Gold award in the LEED green building rating system. It is the university's fifth LEED (Leadership in Energy and Environmental Design) recognition for a building renovation and 15th overall.
The LEED program awards credits in five achievement categories, with additional credits possible for extra high marks in any category or green priorities specific to a region.
Marston, the administrative home of the College of Engineering, closed for construction in July 2014 and reopened in August 2016. During that time, interior load-bearing walls were removed and replaced, floor by floor, with steel columns that created larger classroom and collaboration spaces. In the interim, a series of basement-to-roof shoring towers held the exterior shell in place. Two west side stairwells were rebuilt, two modern elevators installed and numerous closets and abandoned spaces eliminated in efficient floor layouts. Every floor now has restrooms -- and central air handling systems.
Energy efficient, sound resistent
Project manager Kerry Dixon, facilities planning and management, who also oversees the LEED certification process, noted that more than 25 percent of the LEED credits for Marston Hall reward energy efficiency. As designed, natural gas and electricity use is 38 percent lower than state code requirements. That savings doesn't even acknowledge the fact that Marston's fourth floor was cooled by window air conditioning units through 2014.
Another achievement is the high acoustical quality in the three classrooms and auditorium. Dixon said 2-inch-thick wall panels between windows and deliberate right angles in the mechanical ductwork reduce noise in the rooms, while classroom doors equipped with bottom gaskets block out hallway commotion.
"These provide better spaces for teaching and learning," Dixon said. "Acoustically, it should be good enough that an instructor doesn't need to wear a microphone."
A whopping 89 percent of construction waste generated during the project was recycled, not landfilled, Dixon said. This includes waste materials when 29 percent of the original building was demolished, 97 percent of which was reused or recycled. By comparison, 16 percent of Morrill Hall's interior was removed during its 2005-06 renovation.
"The structural changes in Marston allowed us to create 21st-century spaces in a 20th-century shell," Dixon said. "What we were able to do on this project still amazes me."
Marston Hall also earned credits for many of the LEED strategies university projects have employed going back a decade or more. They include:
Low-flow sink faucets, toilets and urinals reduce potable water use by 40 percent of state code (an annual savings of nearly 246,300 gallons)
White roof reflects sunlight and reduces the heat-island effect
Paints, flooring, composite wood, adhesives and sealants emit no or low levels of toxins
18 percent of building materials, by value, were manufactured or extracted from the earth within 500 miles of the building
26 percent of building materials, by value, contain recycled materials
Landscaping selected for the site doesn't require a permanent irrigation system
Within one-fourth mile, building users have access to eight CyRide routes with 530 stops daily
Custodial plan, products and equipment comply with LEED's green cleaning policy
Tally: LEED-certified projects (15)
Platinum: College of Design King Pavilion (2010), State Gym (2012)
Gold: Biorenewables Research Laboratory (2011), Hach Hall (2011), Small Animal Hospital at the Lloyd Veterinary Medicine Center (2013), Troxel Hall (2014), Hansen Agriculture Student Learning Center (2015), Curtiss Student Services Mall (2015), Curtiss Harl Commons (2015), Sukup and Elings halls (2017), Geoffroy Hall (2017), Marston Hall (2017)
Silver: Morrill Hall (2008), Bergstrom Football Complex (2014), Lagomarcino School of Education (2016)
In certification process: Frederiksen Court apartments (6), Bessey Hall addition
Under construction: Advanced Teaching and Research Building, Student Innovation Center