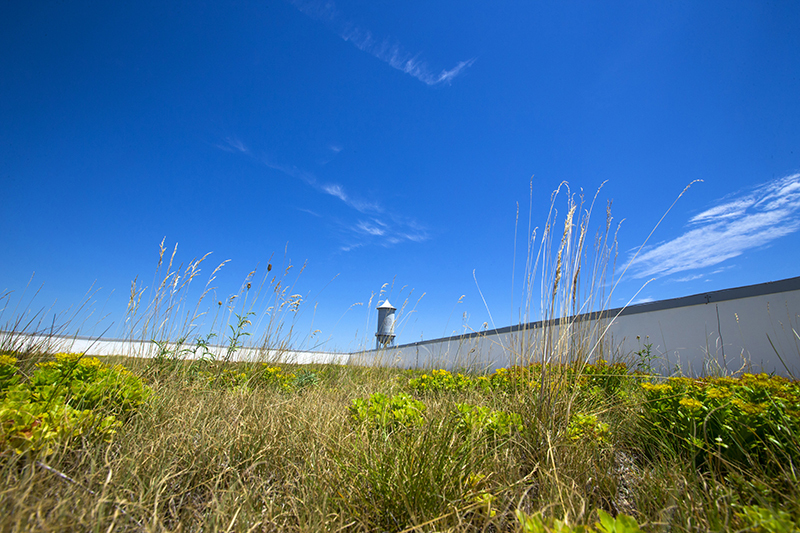 It's the height of summer, which means the campus is alive with greenery, even at heights no one sees while strolling down a sidewalk.
Iowa State built its first green roof in 2009, on the King Pavilion, an addition to the College of Design building. Since then, the inventory of campus buildings topped with vegetation has flourished with little fanfare, growing to a dozen separate spaces on nine structures with two more in the works.
"We've got these little pockets of green tucked around campus that people don't realize we have," said Kerry Dixon, coordinator of sustainable design and construction for facilities, planning and management.
Though green roofs are prevalent more in the south and on the coasts, Iowa State has the most of any public university in Iowa, Dixon said.
"For our region, I think we're probably ahead of the game," she said.
Roofs gone wild
There are plants covering portions of the State Gym addition, Troxel Hall, Memorial Union, Horticulture Hall, Biorenewables Research Laboratory, Sukup Hall, Elings Hall and even a CyRide shelter. All told, it's more than 50,000 square feet of verdant rooftops.
They're not clandestine lawns. Roofs are planted for minimum fuss, with hearty, low-nutrient, low-moisture options such as short-rooted grasses, chives and sedums (also known as stonecrops). They take root in a few inches of "bad sandbox sand" that looks nothing like Iowa soil, Dixon said.
Maintenance crews weed them once or twice a month during the growing season, and they are watered when it's been hot and dry for a couple of weeks. But green roofs aren't manicured. Designs plotted by architects fall apart after a couple years, Dixon said.
"Plants don't like growing in straight lines. They will grow where they want to grow," she said. "As long as there's something green up there growing, it's doing its job."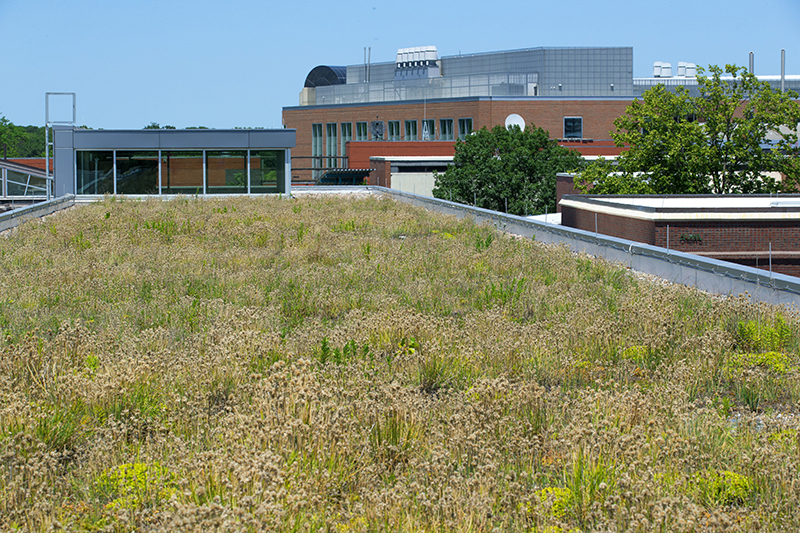 Sponging up rain
From a select few windows, some green roofs can be seen. They're easier on the eyes than a standard roof, ballasted with rocks or sheathed in a reflective white covering.
"Nobody wants to look at a roof," Dixon said. "It's not a warm, fuzzy feeling."
But green roofs don't need to be visible to be effective. The King roof was a solution to an old problem, Dixon said. Stormwater drains on the west side of campus were built as part of a master plan devised in the 1940s, when most land west of Bissel Road was athletic fields. Those fields became buildings and parking lots, which meant a hard rain overwhelmed the sewers and caused flooding.
Yet little rain flows off King Pavilion. Like most of Iowa State's green roofs, it can hold 80 percent of a 1-inch rain storm, Dixon said. On the King roof alone, that's about 5,400 gallons of water. Rain that does run off is filtered better, she said.
Stormwater management is the chief functional benefit of a green roof, but a living lid also protects a roof's membrane from the sun, which extends its life, Dixon said. And it makes for less of a heat island. The plants soak up solar energy, reducing heating and cooling costs, she said.
Not for every building
Though most roofs could support a green retrofit, not every roof should be green. It's not a good fit for buildings that need significant venting, which some scientific facilities do, Dixon said.
"It is only done when it makes sense for the project," she said.
Green roofs also cost more to install and maintain, though a 2011 report by the General Services Administration, which manages federal government buildings, found that the financial benefits outpace the costs in a little more than six years, on average.
But because of the upfront cost, green roofs have been installed primarily on new buildings or major additions, Dixon said. In some cases, interested parties have been the driving force. The primary donors for Troxel and King supported the concept, Dixon said. Students were behind the green roofs on the bus shelter, MU and Horticulture Hall.
That points out another upside of green roofs. They're an effective way to engage students and others on sustainability issues, said Merry Rankin, director of sustainability.
"It's easy to see. It's very easy to connect with," she said.
Plans for the Student Innovation Center
Connecting with green roofs will be even easier when the Student Innovation Center, under construction between Sweeney and Hoover halls, opens in 2020. Two different roof levels will have plants, nearly 13,000 square feet combined, including a publicly accessible terrace and a garden area, Dixon said.
Having a green roof that can be experienced will be a huge benefit, Rankin said.
"We all are tangible creatures," she said. "Reading about something, seeing something and being able to touch and be in and around something – those just have different levels of relevancy, different levels of connection."