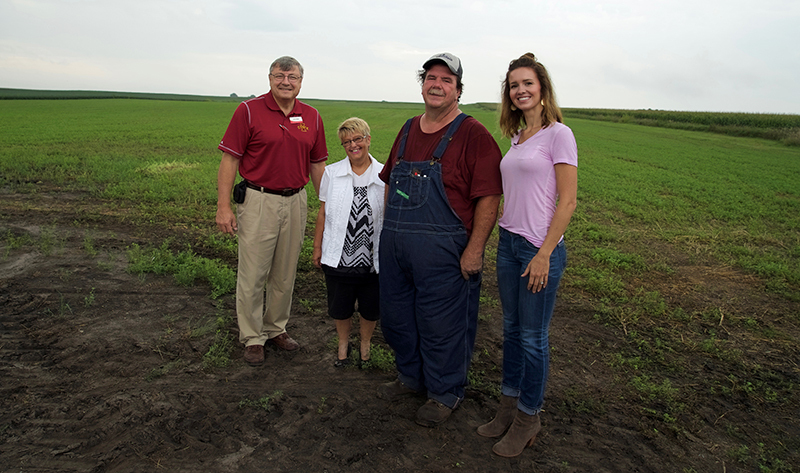 The settlers who moved onto the 160-acre parcels of land-grant land in northwest Iowa in the 1800s may or may not have known that their land payments were helping finance the ag college in Ames.
A century and a half later, the 204,000-plus acres of Iowa land-grant grounds are virtually unknown to their current owners. Iowa State University Extension and Outreach staff are working to change that.
"We want to let these land owners know about their special connection to Iowa State and land-grant history," said vice president for extension and outreach Cathann Kress. "We also hope they'll share, for our archives, their history of growing up on this land and caring for it."
Iowa State is the first land-grant university to identify and map the parcels that the federal government gave to states under the Morrill Act of 1862. States receiving the federal gift had to promise to use the proceeds of that land to build "people's colleges," where working-class students could get both a practical science and liberal arts education.
Request prompts historical dig
Extension's Land-Grant Legacy Project began with a simple request to Kress. An ISU alum in the Norwalk area believed his family farm might be part of the state's land-grant allocation and asked if extension staff could confirm that.
Turned out the farm wasn't on Iowa land-grant property, but in the process of checking, researchers found several old documents referencing Morrill Act parcels and an idea was born: Locate the original land-grant parcels and connect with the people now tending that land.
Since then, extension staff and volunteers have combed old records -- mostly reports to trustees of the old Iowa State Agricultural College and Farm -- to come up with likely land-grant grant parcels.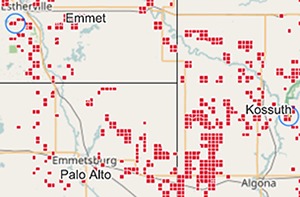 Ray Hansen, director of the Agricultural Marketing Resource Center, led the effort to find and plot the land-grant property on an online map, built by ISU's geographic information systems staff. The map displays the parcels, with township, range and section details and information about first leases and value estimates. Generally, land was leased for several years, then purchased, Hansen explained.
Clues in the abstracts
Through the Land-Grant Legacy website, Hansen said, extension staff are seeking help from current landowners to confirm that the suspected land parcels are, in deed, land-grants.
"That can only be confirmed by abstracts or courthouse records," he said.
Property owners, particularly those in northwest Iowa, are urged to view the land-grant map, and, if they find their properties there, to check their abstracts, Hansen said.
Good indicators of land-grant ground are phrases like:
"United States to State of Iowa Agricultural College"
"Morrill Act"
"Act of Congress, July 2, 1862"
Owners can validate land-grant property and share the history of their land and their own connections with Iowa State on online forms, Hansen added.
Lots of land-grant barons yet to be found
Extension recognized families who own validated land-grant properties in 13 northern Iowa counties during the Clay County fair last September. There are plenty more owners to be found, Hansen said.
"Through this land-grant legacy project," Kress said, "we're determined to find and tell these stories, sharing the legacy of the land and the people who helped to build Iowa State University."
Related story
Northwest Iowa: Land of the land grants, Jan. 26, 2017