The Iowa Board of Regents has named Kristin Failor state relations officer for Iowa State. Failor has served as state policy director for the National Federation of Independent Business (NFIB) since May 2010.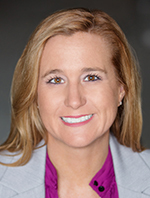 Failor, who began her new position Jan. 3, is employed by the board to coordinate state government relations for Iowa State.
"Kristin brings valuable experience in government relations, policy development and law. The range of issues she has been involved with will be an asset to Iowa State," said Robert Donley, executive director of the board.
Prior to joining NFIB, Failor served as director of government relations for the Iowa Telecommunications Association. She also was assistant general counsel for West Bank (West Des Moines, Iowa) and a research analyst for the Iowa Legislature.
"Kristin is well-known and respected at the capitol, and we're fortunate she'll apply her talent and experience to assist us," said President Steven Leath.
She is a member of several boards and committees, including: Iowa Small Business Development Centers advisory board; Iowa Association of Business and Industry economic growth and tax subcommittees; Iowa Waste Reduction advisory committee; and the Iowa Workers Compensation appeals board.
Failor received a bachelor's degree from the University of Iowa (1997), law degree from Drake University (2004) and is pursuing a master's of health care administration from Des Moines University.
Failor succeeds Joe Murphy, who in August was named senior vice president for government relations and public policy at the Greater Des Moines Partnership.