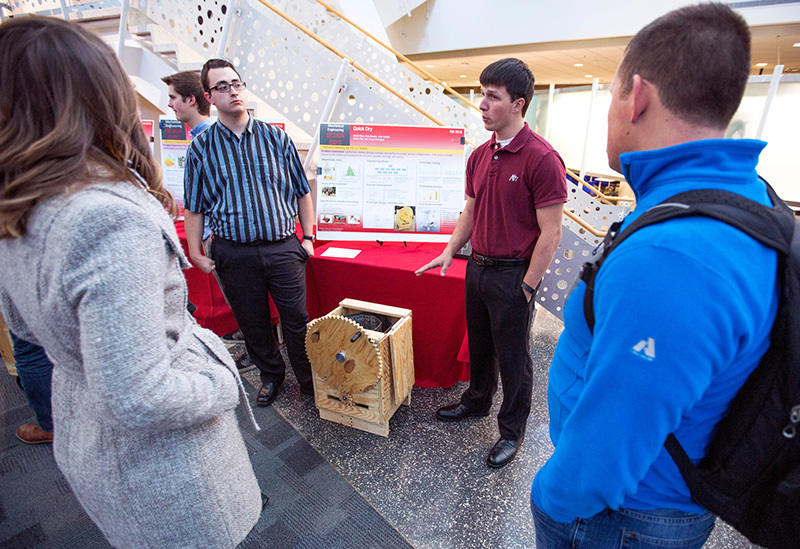 A portable clothes washer for Syrian refugees in Lebanese camps. A hand-pushed, bicycle-like cotton seed planter for farmers in India. A stand-alone network of weights, gears, wheel and microwave motor to produce electric light for nomadic Mongolian communities living outside a power grid. A simple corn sheller for Ugandan farmers in need of corn flour. A hand-cranked trash compactor to fit on 55-gallon drums in Lebanese refugee camps. A semi-mechanized planter to speed up the planting of cassava stalks, a root vegetable grown by many Tanzanian farmers.
Such were the products demonstrated by their student designers Tuesday during the mechanical engineering (ME) department's seventh annual Design Expo. For 45 teams in the sophomore-level ME Design, the semester-long assignment was to identify an inefficient or laborious daily task in a developing country, design an apparatus that improves the task and build a cost-effective prototype.
Teammates John Ceriotti and Kyle Bouska were showing off their portable clothes dryer, intended to provide farmers in the Indian state of Meghalaya relief from bacterial rashes caused by perpetually wet clothing during the monsoon season. Current drying strategies are indoor clotheslines and hot stove surfaces.
They built their half-scale model from plywood (case and gears) and aluminum (drums), but would use aluminum gears and a plastic case in production, they said.
Ceriotti said they achieved proof of concept, though "not as efficiently or as fast as we wanted." With a goal of 1,000 revolutions per minute, their top speed with the hand crank was 400 rpms. He hoped aluminum gears would eliminate some gear play and improve the crank efficiency.
Their aha! moment: Figuring out how to incorporate a beveled gear between the crank handle's vertical gears and the horizontal gears beneath the drums.
Design Expo 2016 also featured 31 senior teams from two systems design courses -- ME 415 and Engr 466 -- who partnered with companies, organizations and nonprofits to either improve on an existing design or develop something new.