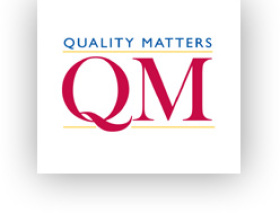 The Center for Excellence in Learning and Teaching (CELT) is offering a new professional development opportunity for instructors interested in improving their online classes and possibly receiving certification through Quality Matters, a nationally recognized certification process of online course design.
What is Quality Matters?
Quality Matters (QM) evaluates online courses using a panel of external reviewers who measure classes against eight standards in QM's higher education rubric. The standards are:
Course overview and introduction
Learning goals and objectives
Assessment of student learning
Instructional materials
Course activities and learner interaction
Technology
Learner support
Accessibility and usability
Each of these standards consists of additional substandards. The substandards are assigned values depending on their impact on the overall course design. To achieve certification, the online course must achieve a minimum of 85 percent of QM's expectations and also receive full credit for all essential, high-impact standards, as noted in the rubric.
More information
For more information about participating in Quality Matters programming, contact CELT assistant director Allan Schmidt, 294-5357.
How CELT can help
CELT recently launched three new professional development tracks with the goals of not only helping ISU faculty enhance their online courses but also preparing them for the QM certification process. However, faculty who enroll in CELT's QM courses are not required to seek QM certification.
"CELT is focused on what is most beneficial to ISU's faculty and instructional designers when it comes to Quality Matters," said Ann Marie VanDerZanden, director of CELT. "We've provided a forum to help our faculty learn ways to improve their online courses while also getting through the QM courses. Whether or not they choose to certify their courses is up to them."
The three tracks are:
Basics of online teaching
Beyond the basics of online teaching
Universal design for teaching online
Each course within a track takes about two weeks to complete. The QM courses cost between $150 and $300 each. However, CELT will reimburse participants 50 percent of that cost upon successful completion of the course. QM charges $1,000 to certify a course. That cost is paid by the college where the course resides.
Successful certification
So far, Iowa State has one QM-certified online class -- Case Studies IV: Emerging and Exotic Diseases of Animals/Initial Accreditation Training (VMPM 378, EEDA/IAT) in the College of Veterinary Medicine. The course received certification last fall after an 18-month process of internal reviews, tweaks and enhancements. A handful of other classes across campus are in the process of certification.
VMPM 378, EEDA/IAT is used not only at ISU, but components of the course are taken by thousands of students in every veterinary school in the nation. The class, first developed in the early 2000s by Iowa State, the University of Georgia, Athens, and the University of California, Davis, now is managed by an ISU team led Gayle Brown, senior lecturer and veterinary specialist at the Center for Food Security and Public Health in the College of Veterinary Medicine.
"Because we're responsible for keeping this course current and available to all veterinary colleges, we wanted to know that we were providing high-quality online training," Brown said. "We wanted this course to be the best."
She and her team worked with CELT and the Quality Matters organization, conducting internal reviews of the course, making design and content changes based upon those reviews, and taking required online QM courses prior to certification. Brown is pleased with the result.
"The improvements we made to the course as a result of the certification process made the course better for the students, and that's what QM is really all about -- enhancing the student experience," Brown said.