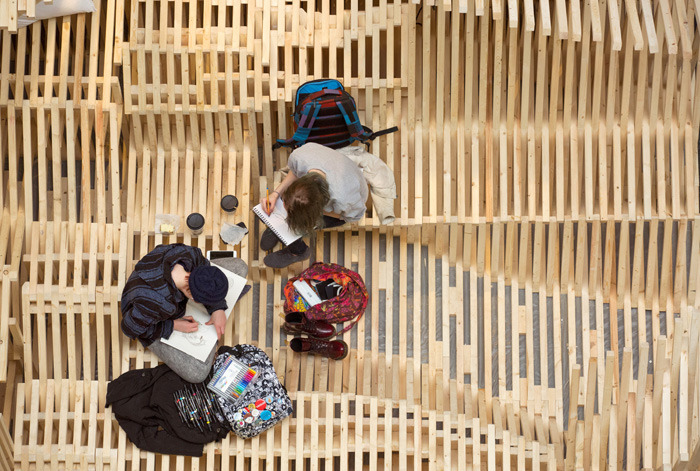 For the past month, 77 second-year architecture students have worked together to imagine, design and build a structure using 1,600 2-by-2 pieces of lumber and deck screws. Appropriately named "TwoXTwo," the 25-by-20-foot installation is on display in the College of Design's atrium through March 11.
Though it looks like a work of art, faculty, staff, students and visitors are encouraged to interact with the structure. Its built-in nooks, benches, tables and pathways invite sitting, climbing, studying and relaxing.
The project was a lesson in collaboration as well as design. The students, enrolled in five sections of Architecture 202, first studied the atrium to determine how people use the space. From there, each of the five classes developed and refined various design concepts until selecting just a few to incorporate into the final project.
While all students worked in shifts to construct the installation, they divided into teams for other tasks. Some teams created digital diagrams, a physical scale model and construction documents, while others documented the process with photos and videos, and created promotional materials.
After March 11, the structure will be dismantled and possibly moved off campus for display.