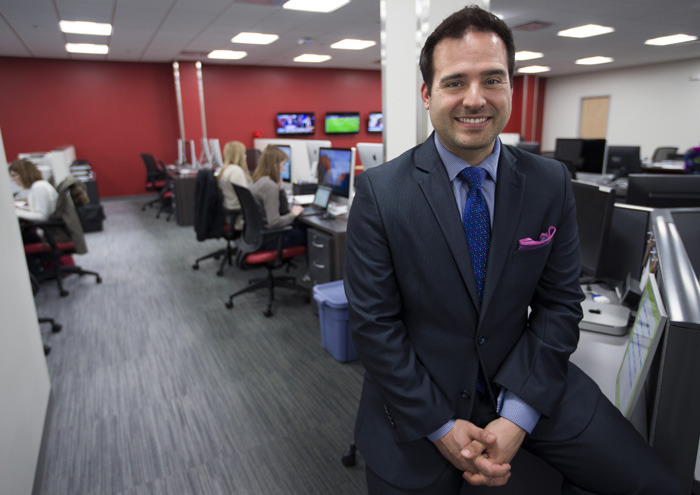 The publishers of the university's student newspaper, the Iowa State Daily, have added a creative services unit to provide project help in photography, videography, graphic design and copy writing. Model Farm -- a nod to ISU's first name, Iowa Agricultural College and Model Farm -- is intended to provide additional job experiences for students and revenue streams for the reincorporated Iowa State Daily Media Group, said publisher and general manager Lawrence Cunningham. He called it a student-run, professionally managed agency.
"We found products and services that are within our core competency as a business," Cunningham said, "so we're able to keep the Daily enterprise financially strong without having to make a lot of capital improvements to do that."
Cunningham estimates that 85 percent of Model Farm's clients will be Iowa State departments or programs or have a connection to the university. He also estimates that about two-thirds of the workload will follow a fee-for-service model. But he's excited about a second model: linking faculty with outside businesses on experiential learning projects for Iowa State students. The first of those, a package redesign project for Capital City Fruit Co., Norwalk, involves students in Sunghyun Kang's Graphic Design 484 spring course.
"We were the connector. We're well-suited to bring in those corporate partners," Cunningham said.
Student opportunities beyond newspaper journalism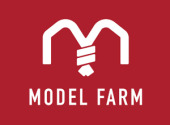 Cunningham said Model Farm initially will create about 40 additional jobs for students beyond the 70 or so on the Daily payroll each month. A majority of the agency jobs will be on a per-project basis, which has involved a professional vetting of students and their portfolios.
"We put students in our queue and when a project pops up that we feel is a good fit for their skill set, we hire them for the duration of the project," he said. "It creates a lot of flexibility -- for students who can't commit to 20 hours a week on a continuing basis -- and for us."
Cunningham said the two options -- community journalism and creative services -- also make it possible to build student career tracks within the media group. The student newspaper has been the traditional entry point for students, but many of them leave by their junior or senior years for other campus jobs that can use their skills. Model Farm gives students a chance to expand their experiences before they graduate, he said, but the Daily no longer needs to be the draw. Model Farm also hires students "with zero interest in ever working on a publication," he noted.
In addition to on-the-job experience, Cunningham said students acquire some professional intangibles through Model Farm: appropriate work attire, email and in-person communications with a client and what good customer service looks like, for example.
"We have high expectations for our students. The only way for us to reach our business bottom line is to deliver high-quality executions to our customers," he said. "It's a real-world business these students work for."
What about university marketing?
Cunningham said Model Farm will complement the office of university marketing. While marketing director Carole Custer "drives marketing strategy for the university," he called his student teams "execution partners."
"Our customers will come to us with a developed strategy, in need of some manpower to put some key products into the marketplace, for example for internal student or employee communication, event promotions, marketing videos."
About a year ago, Cunningham began surveying about 30 campus employees with marketing responsibilities to find out what their needs are. He said he learned the university can help units with high-level strategic work and "really high-level" services. The challenge, he said, is that not every department has the budget to use those services.
"We decided that our opportunity is with people who already understand their strategy but lack the budget to do full-scale implementation," he said.
Cunningham said Model Farm won't get involved in high-level assignments, including university student recruitment.
"The hope is that we can aid [university marketing] in adding some consistency to the Iowa State brand, at a different level of execution," he said. Model Farm charges $50 per hour for any of its services.
Custer said she has agreed to provide training on the university brand to Model Farm staff members. As part of the student learning process, she also offered to periodically review a set of finished projects so the designers have an opportunity to learn more about applying the university brand to their work.
"From my perspective, [Model Farm] provides a unique opportunity for students who come to Iowa State," Custer said. "This gives them real-client projects and it totally supports the university's brand of educating students who are prepared for their careers from the day they graduate."
Not your typical agency
Model Farm's typical clients will be people "who value that we're helping to build student professional and personal skill sets," according to Cunningham.
"If you compare us to a traditional firm, we might have to go through an extra proof. We'll work very hard to get it right, but from time to time, we won't," he said. "There needs to be an understanding, a respect for the fact that these are student employees. We're very clear about that on the front side."
The goal is to serve as many clients as possible, but it's also important to offer a positive work environment to students, he said.