Martino Harmon has been tapped to become Iowa State University's next senior vice president for student affairs. The appointment is subject to approval by the state Board of Regents.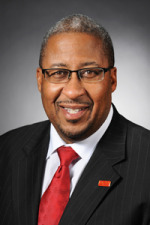 Harmon, ISU's current associate vice president for student affairs, will make the transition to his new position over the next month.
President Steven Leath selected Harmon after a national search
"Iowa State's reputation for providing a first-rate student experience is due in large part to the dedicated efforts of our division of student affairs," Leath wrote in a letter to the university community. "Dr. Harmon is exceptionally qualified to lead this division -- he has outstanding credentials, he is passionate about Iowa State and he is deeply committed to helping all students recognize and reach their potential."
Harmon has served in the associate VP post since arriving at Iowa State in 2013. Previously, he served as executive director of student success and retention at Cincinnati State Community College, Ohio; dean of student development at Rhodes State College, Lima, Ohio; and dean of admission, retention and student life at Washtenaw Community College, Ann Arbor, Mich.
At the University of Toledo, Ohio, he held several posts -- interim assistant dean of students, director of the African-American student enrichment office, director of freshman admission, associate director of admission and multicultural recruitment and coordinator of campus visits and admission counselor.
Harmon earned a bachelor's degree in business administration (1987), master of education (1998) and doctorate in higher education and administration (2013), all from the University of Toledo.
Harmon succeeds senior vice president for student affairs Tom Hill, who is retiring after leading Iowa State's student affairs division for nearly 20 years. Hill continues to serve as a policy adviser to Leath on student experience issues and as Iowa State's representative on the NCAA Division I Committee on Infractions.