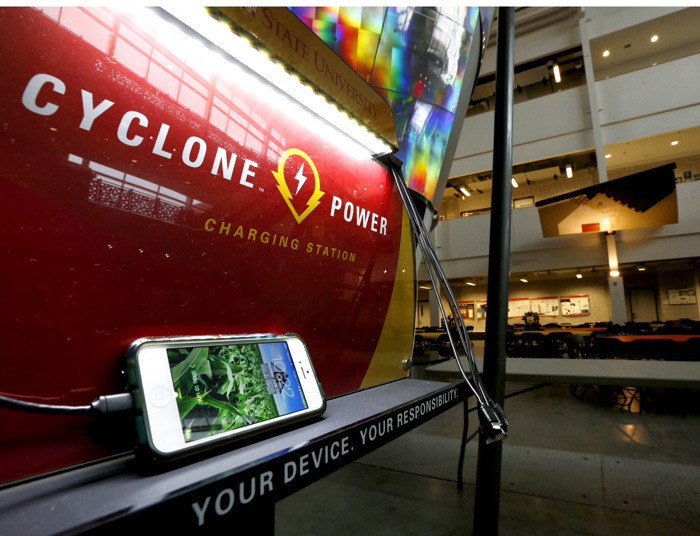 A simple inquiry -- "Is there a charging station nearby?" -- from the parents of a prospective student this spring set in motion the College of Engineering's process to purchase 20 free-standing stations for the eight buildings it occupies.
Iowa Stater art
Iowa State graphic design senior Sarah Van Berkum, who is interning this summer at PUSH Branding and Design in Des Moines (one of the university's agency partners), created the "Cyclone Power" graphic for the face of the charging station.
"Students live on their mobile devices and they constantly need to charge them," said Sadie Johnson, who coordinates undergraduate recruitment in Engineering Student Services and led this project. The service is "something people have come to expect – especially from a college of engineering and technology," she said.
The Engineering college isn't the first on campus to offer charging stations – the Memorial Union purchased two stations two years ago and Parks Library installed one near the circulation desk 18 months ago. But now, there easily could be more. The college worked with the purchasing department, university marketing and the trademark licensing office to select a product and put in place a contract that others on campus can use.
Charging in the library
In addition to purchasing a charging station, the library has invested in study tables with table-top outlets and USB ports as well as additional wall outlets in study areas along the north and west walls that also contain USB ports. All told, that's about 700 USB ports students may use for charging. There are an additional 1,000 USB ports – 2 to 4 per computer -- on public computers throughout the library.
The station
The ChargeTech free-standing station plugs into any outlet and features eight charging connector cords for various mobile devices, which sit on a 3.5-by-16-inch, rubber-coated shelf while charging. The $549 price tag includes shipping and a lifetime warranty.
Associate director of purchasing Cory Harms said the model was favored by an ISU team that tested it and another product. Harms has negotiated a five-year contract with ChargeTech so other university units can purchase the units via a purchase order or P card. Product information soon will be available on the purchasing website and a demonstration model is available in the purchasing department.
"We figured others on campus might be interested in charging stations in their buildings," Harms said.
Locations
Johnson asked building supervisors to select locations for the charging stations, with each building (Biorenewables Complex, Black, Coover, Durham, Hoover, Howe, Sweeney and Town halls) receiving one to three stations. High-traffic student advising office suites and building foyers are common locations, with the focus on serving campus visitors and current students. Johnson said they'll assess the value of those locations over time and move units as needed. For example, Marston Hall likely would receive a few stations when it reopens next summer following a 20-month renovation.