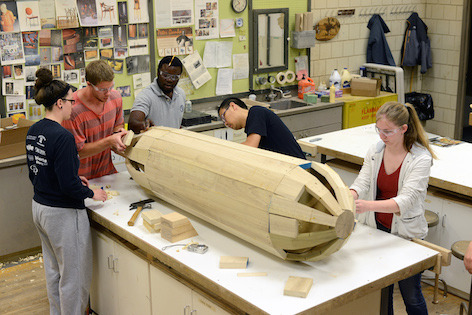 Students from an integrated studio arts class assist fantasy coffin artist Eric Adjetey Anang (center), Ghana, create a "corny," Iowa-themed coffin. Anang is an artist-in-residence in the integrated studio arts department this week, working with associate professor Chris Martin's classes. Faculty and staff may watch Anang work Thursday (9:30-11 a.m.) and Friday (8-11 a.m.) on the lower level patio behind the College of Design. The demonstrations are free and open to the public.
Fantasy coffins are a traditional folk art, unique to the Ga people of southern Ghana. The coffins are sculpted and painted in ways that represent the deceased.
Martin plans to auction the coffin Anang is creating here at Iowa State as a fundraiser for an ISU Engineers Without Borders project to develop a water retention system in a drought-prone Ghanaian village. Read more about Anang and his fantasy coffin creations online. Photo by Amy Vinchattle.