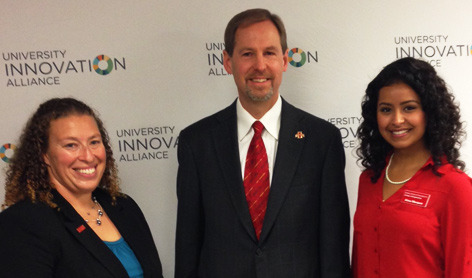 Iowa State joined 10 other public research universities in launching a first-ever project to expand the use of highly successful, innovative programs designed to help more students complete a college education. Formation of the University Innovation Alliance was announced Tuesday, Sept. 16, in Washington, D.C.
Founding members of the alliance
Arizona State University
Georgia State University
Iowa State University
Michigan State University
Oregon State University
Purdue University
The Ohio State University
University of California, Riverside
University of Central Florida
University of Kansas
The University of Texas at Austin
Iowa State will share best practices in its learning communities program, which has consistently been recognized as one of the best in the nation.
The learning communities program at Iowa State is in its 20th year, and if this year is like previous ones, about 70 percent of Iowa State's first-time, direct from high school students will join a learning community.
Here's how learning communities work at Iowa State:
First-year students or transfer students with a common thread – pursuing the same major or participating in the same scholarship program, for example – are enrolled in the same sections of key courses.
Staff and faculty coordinators oversee sophomore mentors who lead small group study sessions as well as weekly meetings that cover topics such as time management, career exploration or a four-year plan to graduation. Learning community teams also meet for purely social gatherings. Last year, the program employed nearly 500 mentors for 5,400 students in 80 different learning communities.
The one-size-fits-all approach doesn't fit Iowa State learning communities. Instead, departments or colleges choose a structure that works well for their students. But a central office coordinates funding and training.
Learning communities make a difference
Since 1998, Iowa State has analyzed student performance to see if learning communities make a difference, and the results show they do. Over that time, Iowa State freshmen in learning communities returned for their sophomore year on average at a rate nearly eight percentage points higher (89 percent vs. 81 percent) than for those not in a learning community. The average six-year graduation rate for learning community freshmen is 12 percentage points higher (74 percent vs. 62 percent) than for non-learning community students.
"The innovation alliance is a great way for our universities to share and expand successful programs that help students, particularly those from low-income families, earn a college degree," said President Steven Leath. "We believe our track record in learning communities can benefit other universities and their students."

Representing Iowa State at the announcement in Washington, D.C., were:
ISU senior vice president and provost Jonathan Wickert
Alma Marquez, a graduate of East High School in Des Moines and an ISU senior in chemical engineering (and a learning community participant and mentor)
Angie Mallory, a doctoral student in English, U.S. Navy veteran and coordinator of the new veterans learning community