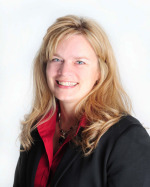 Lisa Shimkat, a regional director for the Iowa Small Business Development Center, will start her new role as statewide director of the organization on Aug. 18. She succeeds Jim Heckmann, who retired in February.
For nearly 10 years, Shimkat has worked in the SBDC's North Central Iowa region based in Fort Dodge, counseling clients looking to start or expand an existing business. Her efforts helped her center earn the 2014 Small Business Development Center Excellence and Innovation Award from the U.S. Small Business Administration.
Shimkat also was recognized in 2010 by the SBDC's national organization as Iowa's "State Star" for her contributions to the SBDC's economic development efforts and commitment to small businesses. She completed both her undergraduate and MBA degrees at Iowa State.
In January, President Steven Leath announced the creation of the Office of Economic Development and Industry Relations, to make it easier for the university's external partners to access Iowa State's economic development resources. As SBDC statewide director, Shimkat will work closely with Michael Crum, senior policy adviser and head of the Office of Economic Development and Industry Relations, and David Spalding, Raisbeck Endowed Dean in the College of Business.
"As we work to reorganize and centralize the university's economic development enterprise, the Iowa Small Business Development Center continues to be a critical component of our economic development efforts," Leath said. "I'm very pleased to have Lisa on board to not only lead the SBDC network and ensure we're providing excellent service to our clients, but also build strong relationships with our partners."
Shimkat wants to make Iowa a model for small business success.
"I'm excited to continue the mission of the Iowa Small Business Development Center at the state level," Shimkat said. "The SBDCs are a great example of carrying Iowa State's land-grant mission of research, education and service throughout the state of Iowa. I've seen firsthand the impact our centers have, and I'm eager to help build on our successes."
Spalding says Shimkat understands the SBDC's mission. "Lisa is an outstanding choice as the next statewide director for Iowa's Small Business Development Center," he said. "Her years of experience as an award-winning regional director make her well-equipped to move the SBDC forward and strengthen its position as a valuable economic development resource for Iowa."