In partnership with the alumni association, the university's 2014 state fair exhibit will boast "Adventurous Iowa Staters Making Iowa Greater." The names of all 97,002 living alumni in the state will be featured on an alumni wall as part of the display.
Red shirts, friendly faces
More than 150 Iowa State faculty and staff will volunteer their time to work in the exhibit -- rolling posters, applying tattoos and answering questions. Slots still are available; sign up online.
"We are sharing the multitude of ways that graduates are impacting the state," said Carole Custer, director of university marketing.
A showcase of alumni services and programs will be on display, and visitors can access and update the online alumni directory. Video features and panel displays will spotlight some Iowa State alumni who are living their own Cyclone adventures in Iowa, Custer said. A Tagboard social media video display will share live Facebook, Twitter, Vine, Instagram and Foursquare posts by fairgoers using #myadventure.
"We want people to tell us how they are making Iowa greater," Custer said.
Visitors can watch Cyclone athletics video highlights and snap photos with the Iowa Corn CyHawk Series trophy and Big 12 Conference championship trophies for the 2014 men's basketball and women's cross country titles. Cyclone fans can order their Iowa State vanity license plates on site and stock up on cardinal and gold merchandise offered by the University Book Store, including an exclusive T-shirt ($7.99) available only at the state fair.
As always, tens of thousands of temporary tattoos and football posters will be handed out, and prizes -- including tickets to football games, volleyball matches, concerts and Iowa State Center performances -- will be awarded during three daily drawings throughout the fair (Aug. 7-17). The exhibit will be open 9 a.m. to 9 p.m. in the northeast corner of the Varied Industries Building.
There's an app for that
ISU Extension and Outreach has again partnered with The Des Moines Register on a Food Finder mobile application for iOS (Apple) devices. In addition to providing nutritional information and locations for all of the fair's food offerings, the free app provides a searchable schedule of events -- including a list of healthy activities.
Cy sightings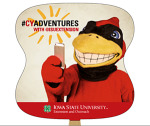 Cy fans will be (literally) everywhere once fairgoers pick up the free hand-held air coolers at the 4-H Exhibits Building and Grandfather's Barn. Visitors can snap selfies with the fans at eight designated locations and share them on Facebook or Twitter (#cyadventures) for a chance to win an iPad.
The actual mascot will visit the fairgrounds on Aug. 9 and is scheduled to participate in the Aug. 14 celebrity grape stomp at Grandfather's Barn.
4-H and more
An estimated 2,800 youth will display thousands of projects and stage hundreds of performances in the 4-H Exhibits Building. Another 3,000 livestock entries will be shown by 4-H members in many fairground venues.
Dr. Bruce Leuschen, a clinician in veterinary diagnostic and production animal medicine, will again serve as the state fair's veterinarian. He and his staff manage the health of exhibit and special event animals on the grounds. Leuschen has been the fair veterinarian since 2008 and served as assistant veterinarian in 2007.