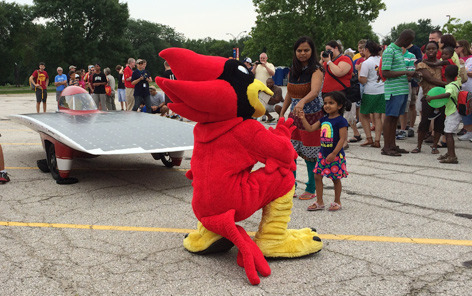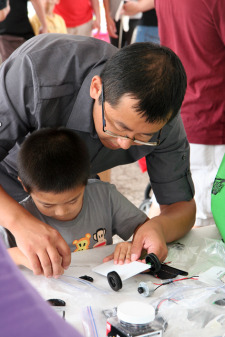 Several hundred people gathered in an Iowa State Center parking lot Saturday afternoon to watch solar cars roll into the Ames checkpoint, cheer on the local favorite -- Team PrISUm's car Phaeton -- and engage in hands-on activities involving wind and solar energy.
President Steven Leath and Cy were among the spectators watching cars in the 1,700-mile American Solar Challenge make a quick, one-hour stop in Ames before hitting the road for La Crosse, Wisconsin.
The Iowa State car car arrived in Ames in third place and held that spot through the race's Monday finish in Minneapolis. In addition to finishing third overall, the ISU team won the best mechnical design award for the car's suspension design. It was the Iowa State team's second consecutive year for the award.