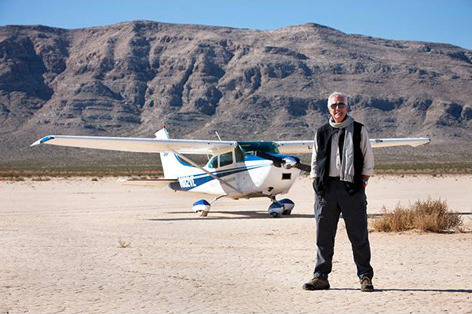 If the alumni association's "VISIONS Across America" exhibit was on your summer to-do list, better get on it. Saturday, Aug. 9, is your last chance to see the results of a two-year journey to alumni in every state by VISIONS magazine editor Carole Gieseke and photographer Jim Heemstra's two-year.
Blog, art exhibit, special issue
The exhibit at the Brunnier Art Museum in the Scheman Building features stories and photos of more than 100 alumni. You can find the stories and photos online as well, but your big screen computer really can't compete with the breathtaking photos (some eight feet wide) sprawling across the walls of the Brunnier. Museum hours are Tuesday-Friday (11 a.m.-4p.m.) and Saturday-Sunday (1-4 p.m.).
Road trips
Post-exhibit, the alumni association will take samplers of the exhibit (20 to 30 pieces) on the road to alumni gatherings in Kansas City, the Twin Cities, Omaha, Denver and Chicago. Gieseke said approximately two-thirds of the exhibit pieces will find a home on campus in colleges and departments from Ross Hall to Howe Hall.