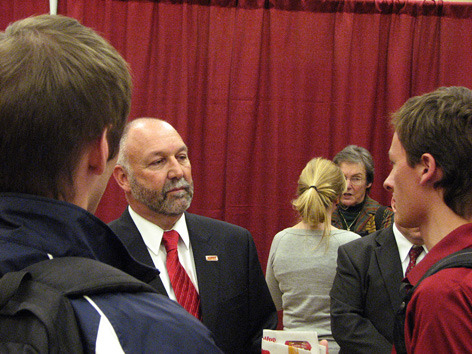 President Steven Leath announced Wednesday afternoon the suspension of Veishea 2014, effective at 5 p.m. that day. The decision follows an incident in Campustown Tuesday night, in which vehicles were flipped, street light poles and stop signs damaged and a male ISU student rushed to a Des Moines hospital's intensive care unit.
"I'm extremely disappointed and saddened over the Campustown incident early this morning. Frankly, I'm embarrassed for our university and our community," Leath said during a press conference at the Memorial Union. "I feel especially sorry for those students who have worked so hard over the last year to plan and carry out a fun, positive and successful Veishea celebration on behalf of this great university."
Leath also said he will appoint a task force next week to address the role, relevance and future of Veishea. He said the group will work quickly. He expects to receive its recommendations and make a decision about Veishea before the end of the academic year. But he said the likelihood of Veishea continuing in its present form is "very, very small."
The cancellation impacts most Veishea activities, including the parade, Veishea Village, evening concerts and performances, and food vendors. A few events, while synchronized with the event, are not Veishea activities and will be held as scheduled, including Friday afternoon's Distinguished Awards Ceremony and the Cyclone football team's spring game Saturday afternoon.
Consensus about decision
Leath said the decision to suspend this week's Veishea followed Wednesday morning meetings with his cabinet and student leaders, and conversations with Ames mayor Ann Campbell and former president Gregory Geoffroy.
"The consensus of the group was perfectly clear: Human safety and the safety of our community has to be the No. 1 priority, and we cannot have any more property destroyed or incidents of this nature."
Leath said he was especially disappointed because Veishea has been canceled and moved and retooled by two presidents before him with the intent of making it safer, yet he finds himself in the same spot as Geoffroy and former president Martin Jischke. He also said the blame for Tuesday's incident can't be placed on outsiders.
"It's Tuesday, folks. We used to blame some of these issues on people who came to Ames from out of town; it's never us. Well, this time it was us," he said.
He noted that the "true nature of Veishea" has been overshadowed by too many incidents such as what occurred Tuesday. Any ISU students involved in the incident may face criminal charges as well as university disciplinary action, up to expulsion from Iowa State.
Ames police investigation continues
Ames police chief Chuck Cychosz said two arrests have been made so far. His department is getting "tremendous help" from the community in identifying people who were involved in vandalism and the vehicle tipping.
Following the family's request, the name of the injured male student is not being shared. Leath said he was in stable condition Wednesday, yet still in the ICU. "We're hoping for a full recovery," Leath said.