The April 14 lunchtime carillon concert will be (almost) all in the family. A trio of siblings comprises half of the carillonneurs that will perform at 11:50 a.m. Monday.
The Cunninghams -- Craig, a 2012 Iowa State biology graduate; Carrie, a senior in elementary education; and Cayla, a sophomore in elementary education -- will share the bench to perform the theme song from the HBO hit series Game of Thrones.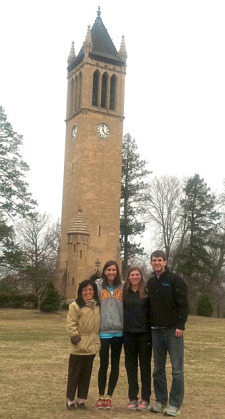 "They will play together, sitting on the same bench, sharing the 50 bells and keys ... and will NOT get into a fight," joked ISU carillonneur Tin-Shi Tam.
Senior accounting major Erin Reger, junior computer science major Nathaniel Han and senior dairy science major Mackenzie Dickson also will perform. The concert originally was part of the Veishea lineup, but was moved to Monday when the annual celebration was suspended.
Carillon concert program
Bells of Iowa State, James Wilson
Clock Music, George Frideric Handel
Entrance of the Queen of Sheba, George Frideric Handel
Cortege, John Courter
Fugue, John Courter
Pastel in Bronze, Albert Gerken
Game of Thrones, Ramin Djawadi