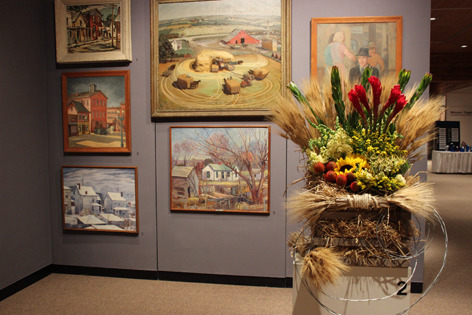 Spring will be in full bloom March 28-30 at the Brunnier Art Museum during the sixth annual "Brunnier in Bloom" exhibition. The event features floral designs by central Iowa florists, garden clubs and students that complement the museum's works of art.
The show opens Friday, March 28, with a Flowers After Hours reception (6-8 p.m.). Visitors will enjoy live music, cupcakes and a cash bar while learning which designs receive top honors. Judges for this year's event are Stewart Burger, lecturer in apparel, events and hospitality management; Ann-Marie Fiore, professor in apparel, events and hospitality management; and Letitia Kenemer, fine arts coordinator for the Memorial Union. Attendees also will have a chance to cast a vote for the People's Choice award.
Activities March 29 and 30 (11 a.m.-4 p.m.) include crafts for kids (both days) and a calligraphy demonstration on Sunday (1-3 p.m.). Visitors may purchase raffle tickets throughout the weekend for various prizes. Proceeds will benefit University Museums educational programs.
"Brunnier in Bloom" is free and open to the public.