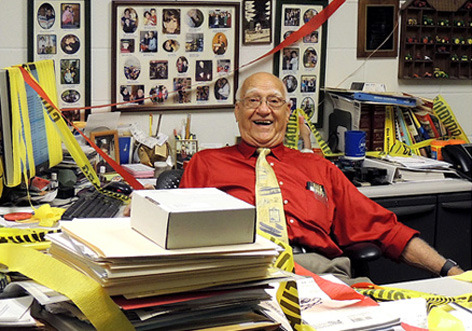 Joe Schaefer started his 50th year as a professor this fall. His colleagues in the aerospace engineering department marked the milestone with cookies, posters depicting Schaefer as a super hero and an office decorated with cardinal and gold streamers. Inside asked Schaefer about all those years in college classrooms.
Joe Schaefer
Position: Senior lecturer, aerospace engineering
Age: 72
Education: B.S., Loras College, 1962; M.S., University of Toledo, 1964; Ph.D., Northwestern University, 1972; all in physics
Time at Iowa State: 14 years
Please walk us through your 50 years as a professor.
I started teaching in the fall of 1964 at Loras College in Dubuque. I spent 35 years at Loras, including stints as chair of the department of physics and engineering sciences and nine years as chair of the faculty. I came to Iowa State in 1999. Our daughters had taken jobs in central Iowa and we knew they wouldn't be coming back to Dubuque. We found a lot in Ankeny and built a home and then I went looking for a job. At that time, people were taking phased retirement at Iowa State and some departments were looking for help. And that's how I fell into this job.
What do you remember about your first days as a professor?
I taught an advanced introductory physics course and the lab that went with it. At that time we had quite a few good, strong physics majors. It was a popular thing to study because of the space program.
And what are you teaching 50 years later?
This semester my major responsibility is fluid mechanics. I'm teaching EM 378, Mechanics of Fluids. I also teach the strength of materials lab, EM 327, Mechanics of Materials laboratory. We've been able to replace some pieces of vintage equipment that were large chunks of iron occupying a great deal of laboratory space with computer-driven tools. I'm pretty happy about that. Those changes provided room for the department's M:2:I (Make to Innovate) program. Look at the posters the students in M:2:I have out there in the hallway (lower level of Howe Hall). What they're doing is really something.
And what is your relationship with students these days?
I was cleaning off my desk the other day and found this note in one of my piles. It's something a student wrote in one of my course evaluations last year and I wrote it down: "Dr. Schaefer is the kind of teacher lazy students would hate."
You don't sound like you're in any hurry to retire.
No, they treat me so well here. There are enough challenges to make it interesting. And I have enough energy and interest to do this. It's still really a nice life.