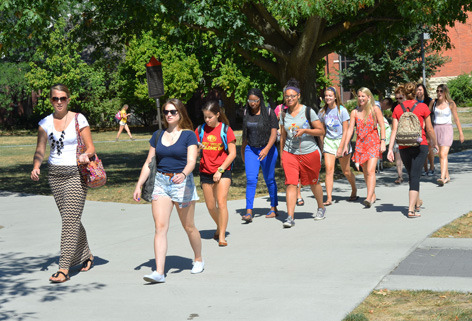 Iowa State University's fall 2013 enrollment of 33,241 is the largest in school history, an increase of more than 7 percent (2,201 students) over the previous record of 31,040 in fall 2012.
It's the fifth year of record enrollment and the seventh consecutive year of growth at Iowa State. The student body represents every Iowa county, all 50 states, and 106 countries.
As pleased as President Steven Leath is with the university's growing enrollment, he says it's far more interesting to examine what's driving the demand for Iowa State degrees.
"There are so many tangibles and intangibles that go into the college decision process. There's no single force that causes enrollment to rise, and over time, it will ebb and flow. But we can identify some contributing factors right now," Leath said. "We are both recruiting and retaining larger classes at Iowa State. There's high demand for programs of study that have long been our core strengths. Iowa State offers a robust student experience that allows freshmen to get involved on campus from their very first day – whether in learning communities, intramurals, clubs or other leadership opportunities. And in the end, students tell us they see a return on their investment because they get good jobs."
Overall, 94.3 percent of Iowa State graduates are either employed or pursuing further education within six months of graduation.
Fall 2013 marks the highest resident undergraduate enrollment ever at Iowa State – 18,009. More than 65 percent of Iowa State's 27,659 undergraduates are Iowans.
This fall's resident undergraduate enrollment tops the previous record of 17,674 set in 2001, and equals 959 more in-state undergrads than enrolled at ISU last fall. (Total Iowa resident enrollment is 19,850.)
This year, Iowa State has attracted its largest freshman class ever – 6,089 – and 3,540 (58.1 percent) are Iowans. Each year, Iowa State enrolls more Iowa high school graduates as new freshmen than any other four-year school.
"Most important, we are admitting students who are prepared to succeed at Iowa State. The qualifications of our incoming students remain high," Leath said, citing consistent mean ACT scores, high school GPA and class rank.
By the numbers
Iowa State's student numbers set records in nearly every category again this fall:
Record undergraduate enrollment of 27,659, an increase of 2,106 students from fall 2012.
Record international student enrollment of 3,797, an increase of 287 students from fall 2012. The overall number also reflects a record in the number of international undergraduates: 2,172.
Record diversity. More than one in five Iowa State students is either a U.S. multicultural student or an international student. Total U.S. multicultural and international enrollment is 7,486, or 22.52 percent of the student body. (The previous record set in fall 2012 was 6,765, or 21.79 percent of the student body.)
U.S. multicultural enrollment is 3,689 (11.1 percent of total enrollment), a new record and an increase over last fall's 3,255 students.
Iowa State welcomed a record number of U.S. multicultural new freshmen this fall – 782 – up from last year's record of 700.
For the past seven years, Iowa State has met or exceeded the 8.5 percent minority enrollment goal set by the Iowa Board of Regents.
Record total new freshman enrollment of 6,089, up from last year's record of 5,366.
Record Iowa new freshman enrollment of 3,540, up from 3,251 last year and surpassing the record of 3,314 set in 2001.
Record nonresident new freshman enrollment of 2,188, up from last year's record of 1,865.
Record international new freshman enrollment of 361, up from the 2010 record of 283.
Record new transfer student enrollment of 2,042, up from last year's record of 1,841 students.
Record transfer enrollment from Iowa's community colleges: 1,214, up from last year's record of 1,111 students.
Fall 2013 enrollment by college

Agriculture & Life Sciences

4,983

Business

3,908

Design

2,001

Engineering

8,284

Human Sciences

4,800

Liberal Arts and Sciences

7,836

Veterinary Medicine

586 professional;
122 graduate

Interdepartmental Units
and Graduate Undeclared

435

Post-docs

286

TOTAL ENROLLMENT

33,241