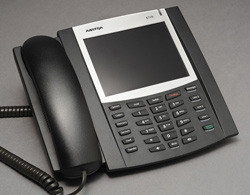 Send voicemail to email
You can automatically send audio copies of your voice mails to email with a tweak in your portal account.
If you haven't done so, set up your portal
Sign in at the portal site, phone.iastate.edu
In left navigation, click "messaging"
Click "voice management"
Under the "additionally" section, check "email a carbon copy of the message to" and insert your email address in the blank
Caution: Don't use the "when a message arrives" section to forward your voice mail unless you want all voice messages to completely bypass your voice mail box and go only to email
Press "apply" or "OK" button
Access voice mail from an off-campus phone
Dial (515) 296-6245. You'll need your mailbox ID, which is your 5-digit extension (for example, 4-XXXX), and your passcode
Monitor certain phone extensions to see if they're busy
The busy lamp field (BLF), allows you to see at a glance whether certain extensions are busy or idle. The LED lights up when an extension is in use.
If you haven't done so, set up your portal
Go to phone.iastate.edu and sign in
Click "client applications" in the left navigation
Click "busy lamp field"
Use the search criteria to find and add names to your BLF list
You can rearrange the list order by highlighting an entry and using the "move up" or "move down" buttons
Click "apply" or "OK" button
To monitor BLF extensions:
Your phone screen may not display last names of those on your BLF list, but their extensions will appear in the softkeys on the screen
You'll see a few extensions at a time. Click the "more" softkey (bottom right with two small dots) to toggle to other listings
When one of your monitored extensions is busy, the corresponding softkey is red and its icon displays an off-hook receiver
If the LED is flashing, the user is receiving an incoming call
To speed dial one of your BLF numbers:
Press the BLF softkey adjacent to that number
Forward incoming calls to another number
When you're on your phone or not answering, incoming calls usually are directed to voicemail. Call forward allows you to bypass voice mail and direct those calls to another number. You have three forwarding options:
"All" or "always" forwards all incoming calls
"Busy" forwards incoming calls when you're on the phone
"No answer" forwards calls not answered in a specified number of rings
While you can set call forward from the portal or phone (both instructions follow), the portal option currently works best, especially when setting the "busy" or "no answer" modes.
Call forward (from the portal)
If you haven't done so, set up your portal
Go to phone.iastate.edu and sign in
Click "incoming calls" in the left navigation
Click on one of the three call forwarding options
Fill in the forwarding number (10 digits, no hyphens), for example, 515294XXXX, and click the "on" button
Click "apply" or "OK " button
Call forward (from the phone)
Press the "call forward" softkey
Press "on" for any or all of the three forwarding options ("all," "busy," or "no answer") and fill in forwarding number
Change the name on your phone display
If you haven't done so, set up your portal
Go to phone.iastate.edu and sign in
Under "basic" in the main section, click "profile"
Make name corrections
Click "apply" or "OK" button