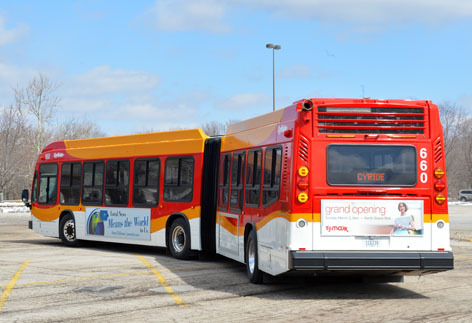 CyRide's orange route, which runs from the College of Veterinary Medicine and loops around campus, is the busiest in the state of Iowa. To help accommodate the crowds -- an estimated 12,000 riders daily -- two articulated buses are being added to the fleet.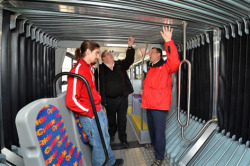 The articulated feature is the accordion-style design that allows the two sections of the bus to pivot and "bend" around corners. The buses, which measure 62 feet in length (standard buses are 40 feet), will double capacity to 120 standing and seated riders, combined. They offer three access doors, rather than the standard two, and 60 seats.
CyRide transit director Sheri Kyras said two articulated buses do the work of three regular buses, saving money on fuel and driver costs.
"These buses will allow us to continue to efficiently provide quality service to the Ames and Iowa State University communities," Kyras said. "CyRide's ridership has increased each year since 2006. Articulated buses are assisting the transit system address the challenges associated with higher ridership."
Drivers began training on the buses this month, and the new vehicles went into service this week. The buses cost $687,413 each, with 90 percent covered by federal grant dollars.