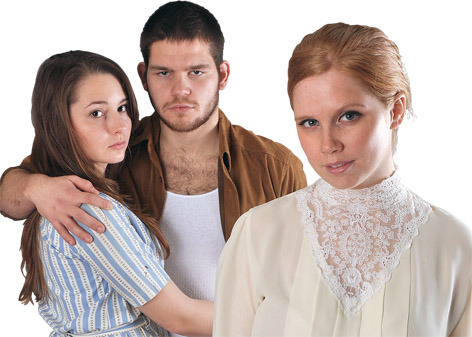 ISU Theatre takes the stage March 28-31 at Fisher Theater with its rendition of Tennessee Williams' classic play A Streetcar Named Desire.
As relevant today as when it debuted on Broadway in 1947, A Streetcar Named Desire tells the story of Blanche DuBois (junior Annie Feenstra), a refined yet troubled Southern woman from Mississippi, who travels to New Orleans to visit her sister, Stella (junior Elizabeth Thompson), and brother-in-law, Stanley Kowalski (senior Drew McCubbin). Blanche's visit interferes with the couple's passionate and unusual relationship, which culminates with Stanley becoming cruel and violent toward his sister-in-law.
"Many of Tennessee Williams' plays are considered triumphs of American realism, but I find that there is also an exciting amount of magic interwoven in his plays," said director Matt Foss, lecturer in the department of music and theatre. "The story of Stella, Stanley and Blanche in the haze of the French Quarter in A Streetcar Named Desire's New Orleans explores Williams' deeply personal story enveloped in his own particular brand of magic."
Show dates and times are March 28, 29 and 30 at 7:30 p.m., and March 31 at 2 p.m. Tickets are $16 ($14 for seniors; $8 for students), and available at the Iowa State Center ticket office or through Ticketmaster.