Five questions for the 'hit tape' architect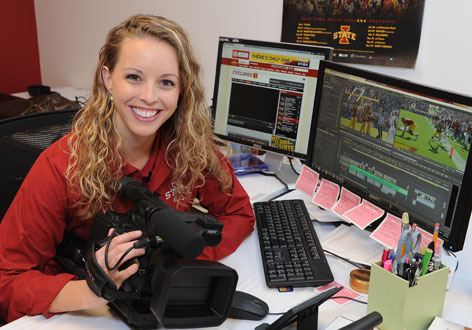 Although she's involved in shooting video of events, features and press conferences for Iowa State's athletics teams, it may be Dani Varley's work on the weekly football highlight videos ("hit tapes") that is best known to the Cyclone fan base.
The Basics
Name: Danielle (Dani) Varley
Position: Assistant director of website services
Years at ISU: 1.5
Education: Bachelor's degree in journalism (electronic media) from Iowa State
Where did the idea originate and why are they called "hit tapes?"
Athletics did a highlight tape for one game in 2010, and got a lot of positive feedback. When I started here in the summer of 2011, they tossed the idea out to me to do these hit tapes every week, with highlights from the previous game, set to music.
The term "hit tape" actually came from the Dan McCarney era. The football video coordinator would create the hit tape as a motivational video for the team to see the night before the game. We stumbled across them two years ago.
When we started, we were just going to show all of the hits and the stuff that gets people fired up. The name just stuck, even though it's more of a highlight, pump-up, promo video. But I think hit tape is the name people know it as and that's what we've kept calling it.
How long does it take to do a hit tape, start to finish?
I have a lot of other responsibilities -- football isn't the only sport we're covering -- so it happens throughout the week. Some weeks, I definitely have an idea of what we want to do -- like the homecoming video -- but it really depends on what the team does the Saturday before.
I spend part of Sunday preparing for Monday. I come in Monday morning and think about the story line of the game, how it played out and what happened. Then I try to find a song that highlights the positives of the game and relates to what the team needs to focus on the next week, or what we did really well.
So it starts on Monday with picking a song, labeling all the footage we captured at the game and going through the highlight package that TV provides us to see what we can cut away from that. Usually on Tuesdays, I start figuring out what clip goes where, and I piece that all together over the next couple days. I put on the finishing touches on Thursday and Friday. Sometimes I'm just finishing up right before it's released at noon on Friday; sometimes it's done Thursday night.
Bright lights, big city
"When we played at the Pinstripe Bowl last year, they played a couple of the hit tapes on the videoboard at Yankee Stadium. That was a really cool experience -- to stand basically on home plate at Yankee Stadium and watch my video on the videoboard."
-- Dani Varley
Where do the ideas come from?
My inspiration comes from a variety of different areas. I watched a lot of episodes of Friday Night Lights over the summer, so the first hit tape we did this year was very much like the Friday Night Lights intro video.
I'll be in a movie theater or watching TV at home and wonder what a song is and whip out my phone to Shazam it (Shazam is a smartphone app that identifies title and artist of a song that is playing). I saw Blindside and I just loved the credits song after the movie ("Chances," by Five for Fighting). I wanted the opportunity to use it at some point, and the Oklahoma State game happened last year -- it was just the perfect song for the perfect moment.
Do other sports get hit tapes?
Volleyball had a couple last year. We'll probably do that again if they are selected for the NCAA Tournament. We did a couple for men's basketball after some big wins -- against Kansas and at the tournament -- and one for Royce (White). I'm sure people would like to have one for every single game, but they take a lot of time and work. We'll see what happens with basketball this year and if there are more opportunities to do them.
What kind of feedback do you get?
It's nice to get positive feedback on something you worked so hard to do. It's fun to see people's responses, like 'it gave me goosebumps,' or 'it brought me to tears.' A lot of the criticism comes from the choice of music. I like to switch it up, week to week. Sometimes it's an instrumental, sometimes it's a rock song with lyrics. It's hard to please everyone, because everyone has different taste in music.
It's fun to see it on social media. That's what really gets me -- when you're responsible for a video that gets hundreds and hundreds of likes on Facebook. The more important thing is when I see that so many people have shared it. It does a lot for Iowa State, too. If Iowa State grads are posting it to their Facebook pages, maybe their friends will become Iowa State fans because they watched this video and got excited about it.