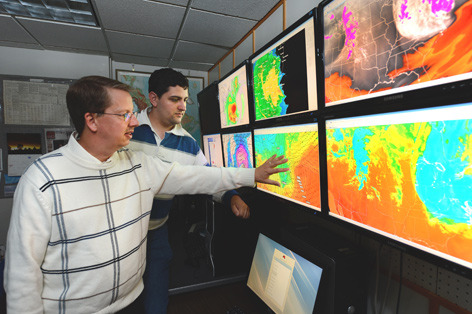 It's a pregame favorite at Jack Trice Stadium. The vintage black-and-white test pattern on the scoreboard signals a Cyclone weather alert. "Strong storms are approaching the stadium," the loudspeaker blares. The announcement continues, urging opposing fans to seek shelter immediately, and the home crowd roars appreciatively.
If only they knew, Cyclone fans might make a little noise for some real storm watchers in their midst -- the Iowa State meteorologists who spend game week and, occasionally, game day poring over weather maps, figuring out what's going to chill, heat, drench or strike Jack Trice Stadium.
Under the guidance of professor of geological and atmospheric sciences Bill Gallus, graduate students Tim Marquis and Brian Squitieri prepare forecasts for Cyclone football, soccer, softball and track. All three are trained meteorologists who volunteer their time and expertise in the interest of game day safety.
Early surveillance
They're on the job at least a week before each game, eyeing weather models to see if anything blowing into Ames could be severe enough to threaten fans and players. Lightning is the most common threat at outdoor venues, but the meteorologists look for all kinds of severe weather, including tornadoes.
Assistant athletics director for operations Nick Britton and ISU deputy chief of police Rob Bowers welcome the meteorologists' help, which began about a year ago at Marquis' suggestion. Currently an M.S. candidate at Iowa State, Marquis did his University of Oklahoma undergraduate thesis on weather accidents at large outdoor venues. The work led him to believe that many weather tragedies could be prevented with more warning time.
When Marquis and Gallus offered help in tracking weather prior to Cyclone contests, Britton and Bowers readily accepted. While the ISU officials have long used, and will continue to use, the National Weather Service and other forecasting services, they liked the idea of trained professionals giving special attention to Ames.
Unsettling scenario
An example of that special attention occurred in mid-October when the Iowa State weather trackers noticed that a potential tornado-producing system appeared to be on a collision course with the Oct. 13 Kansas State game in Jack Trice Stadium. The game was more than a week away, but all the major weather models appeared to lock on the same unsettling scenario.
Marquis alerted Britton, and contingency planning began. All week, the meteorologists watched the weather while athletics staff, police and other university personnel discussed everything from communication plans to procedures for evacuating people in the stadium area.

"We don't ever want to get blindsided," Britton said. "You prepare for the worst and hope for the best."
Fortunately, in the case of the K-State game, it turned out to be the latter. The grim weather outlook began to brighten as the weekend approached and, despite a rainy Saturday morning, the game was played on time and under relatively clear skies.
Still, game day found the ISU meteorologists hunkered down in Agronomy Hall labs watching radar for storm-producing lightning and predicting rainfall amounts. On hand were several undergraduate students in the department of geological and atmospheric sciences.
Good for students
"I wanted undergraduates here to observe what goes into warning forecasts," Marquis said.
The weather monitoring program's potential for yielding learning experiences for students is important not only to the academics involved, but to those in the athletics and police departments.

"A big plus of the partnership is the benefits to students in Iowa State's meteorology program," Bowers said. "It provides the grad students resume-building experience and valuable learning opportunities for undergrads."
"Meteorology can use it as a teaching mechanism for the students," Britton said. "That's why we're here -- for the students."
All of those involved in the weather-monitoring partnership are quick to point out that final decisions on managing outdoor Cyclone events rests with the athletics department and police.
"Meteorology provides us with information and guidance so we can make decisions based on science and data," Bowers said.
"It's really just some extra information that goes into their toolkit to help them decide what call to make," Gallus said.
In fans' hands
ISU officials stress that fans are an important part of the play calling when it comes to weather safety. They urge those attending games outside to pay attention to the weather and heed warnings.
"Ultimately your safety is in your own hands," Gallus said. "Nobody else can make you 100 percent safe when it comes to weather."