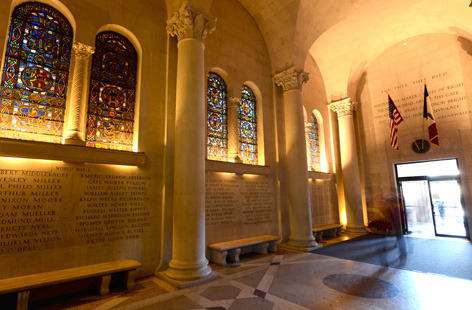 An article in the Summer 2011 issue of the alumni association's magazine initiated a chain of events that stretches from World War II all the way to the university's Gold Star Hall ceremony next week.
Two readers of the Visions article, "Honoring Our Fallen Heroes," came forward with stories about two former Iowa State students who died in military service during World War II. Although their names were previously engraved on the walls of the Gold Star Hall -- the war memorial in the university's Memorial Union -- their stories had not been honored at Iowa State.
The lives of these two brave pilots -- both bona fide heroes -- will be remembered during the ceremony at 3:15 p.m. Monday, Nov. 12, in the Great Hall. The ceremony is open to the campus community.
"There's some urgency for us to tell the stories of World War II honorees while we can learn firsthand from their service buddies and families," said Kathy Svec, ceremony coordinator and retired ISU Memorial Union marketing director. "It's very cool when you get family members who had an extensive interest in their relatives who served."
During the ceremony, each soldier's life will be honored through personal stories and photos. Svec and Larry Huisman, retired Memorial Union finance director, compiled the stories, using biographies and materials provided by the families.
Don Beerbower, a pilot from Hill City, Minn., died while bombing German airfields in France. A virtuoso triple ace, his superiors considered him to be one of the greatest fighter pilots in the European theater.
Paul Sailor, Wadena, Minn., saw the Visions article and responded with a letter outlining Beerbower's life and heroism. He had grown up hearing stories about Beerbower from his father, a childhood friend of the pilot. Sailor is the author of The Oranges are Sweet, a book about Beerbower and the men who served with him in the 353rd Fighter Squadron.
Sailor and Beerbower's daughter Bonnie and her family of Cohasset, Minn., will attend the ceremony on Monday.
Allan Ewoldt's family -- all Iowa State alums -- also responded to the Visions article. Ewoldt flew 33 missions in just three and a half months during a major campaign in Sicily and Italy. He will be honored thanks to extensive information provided by the family.
Ewoldt's nephew, Homer Ewoldt of Spencer, and his family also will attend the ceremony.
In addition to the soldiers' stories, the Gold Star ceremony will include an Army ROTC color guard and brief remarks by university and military representatives.