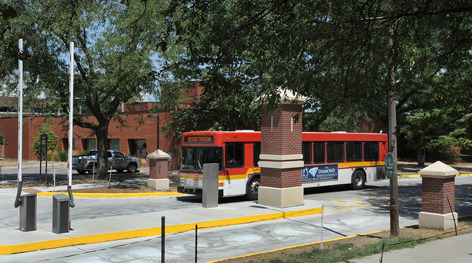 Summertime in the world of academia usually means life is less hectic. But while you were enjoying some peace and tranquility, many administrative and physical changes took place across campus. Here's a look back at some summer news.
Faculty and administrative changes
Construction update
The Ames Intermodal Transportation Facility, located west of the Chamberlain Street intersection on Hayward Avenue, opened in July. CyRide owns the facility, and Iowa State's parking division is managing it. Regional bus and shuttle service began July 1. Parking permits are available for faculty, staff, students and the general public.
The Cyclone Sports Complex, located east of the Towers residence halls, is nearing completion and will see its first use at the end of August.
Mechanical and electrical finish work on the football training facility continues. The building should be ready for occupancy in October.
Various projects at Curtiss Hall will impact access to and throughout the building as the academic year commences. The Student Services Mall is complete with a dedication planned Aug. 28. Work has begun on Harl Commons, a student gathering area in the basement and on the ground floors of Curtiss. As a result, the east entrance is under construction.
Excavation and foundation work on the Agricultural Biosystems Engineering Complex next to the Biorenewables Research Laboratory on the west side of campus began this summer and will continue through fall. Look for increased truck traffic in the area. Parking lot 6 is closed and pedestrian walkways have been rerouted. The building should be finished by fall semester 2014.
Construction continues on Troxel Hall, located east of Horticulture Hall. Expect some traffic congestion around Farmhouse Lane while workers haul materials to the site. Completion is planned for next spring.
Osborn Drive received a facelift this summer, complete with a call box and turnoff exit for access to Wallace Road. Brick columns, landscaping and sidewalk improvements also were part of the project.