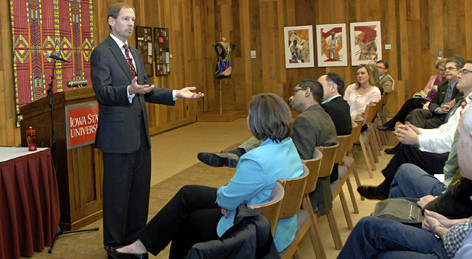 Jonathan Wickert, dean of the College of Engineering, has been tapped to become Iowa State's next senior vice president and provost.
President Steven Leath selected Wickert to become the chief academic officer following a national search. The appointment is subject to approval by the state Board of Regents.
Wickert will assume his new post July 30, and an interim will be appointed to lead the College of Engineering while a search is conducted for a new dean.
­"Jonathan Wickert has shown strong leadership and an innovative approach to issues facing the College of Engineering and the university as a whole," Leath said. "He's the right person to lead a talented group of deans and other senior university officials in further advancing the quality of our academic programs."
Wickert has served as dean of the College of Engineering since 2009. He is the James and Katherine Melsa Professor of Engineering and a professor of mechanical engineering. He came to Iowa State in 2007 as chair of the department of mechanical engineering and the Larry and Pam Pithan Professor of Mechanical Engineering. Previously, he served 17 years on the mechanical engineering faculty at Carnegie Mellon University, Pittsburgh.
His research has advanced the technology of high-density computer data storage and improved the design of automotive disk brakes, gas turbine blades and production equipment for sheet metal, polymer web and chopped fiber materials.
Provost plans
"I'm looking forward to working closely with president Leath and helping to implement his vision to advance Iowa State to the next level," Wickert said.
"In the coming weeks and months, you'll see me working closely with provost [Elizabeth] Hoffman on the transition and reaching out across campus to listen and learn more about all our academic, research and extension programs.
"With record enrollment and sponsored research, new faculty hiring and capital projects, and strong student retention and job placement rates, the Engineering college is well-positioned," Wickert added. "A process will begin immediately to identify an interim dean of engineering who will begin on July 30."
Wickert earned bachelor's (1985) and master's (1987) degrees and a doctorate (1989), all in mechanical engineering, at the University of California, Berkeley.
Wickert will succeed Hoffman, who announced in February that she intended to leave the provost position by year's end.