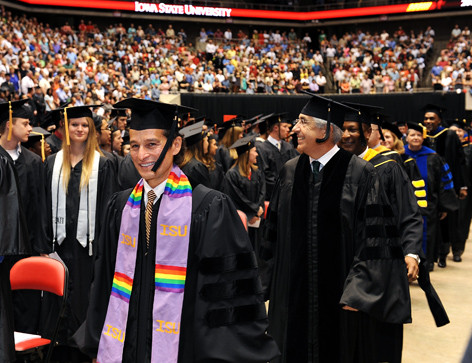 George Belitsos (center) and Daniel Gianola (behind him), who received honorary degrees from Iowa State this spring, joined the procession at the undergraduate commencement ceremony May 5 at Hilton.
Belitsos, CEO of Ames-based Youth and Shelter Services, was recognized for service to Iowa teens and families. Gianola, professor of animal science, dairy science and biostatistics at the University of Wisconsin, Madison, was honored for his contributions to the field of animal genetics.
More than 3,000 students completed their Iowa State bachelor's degrees last week; in his address to them, State Board of Regents president Craig Lang encouraged them to be patient and to be open to possibilities other than their current plans.