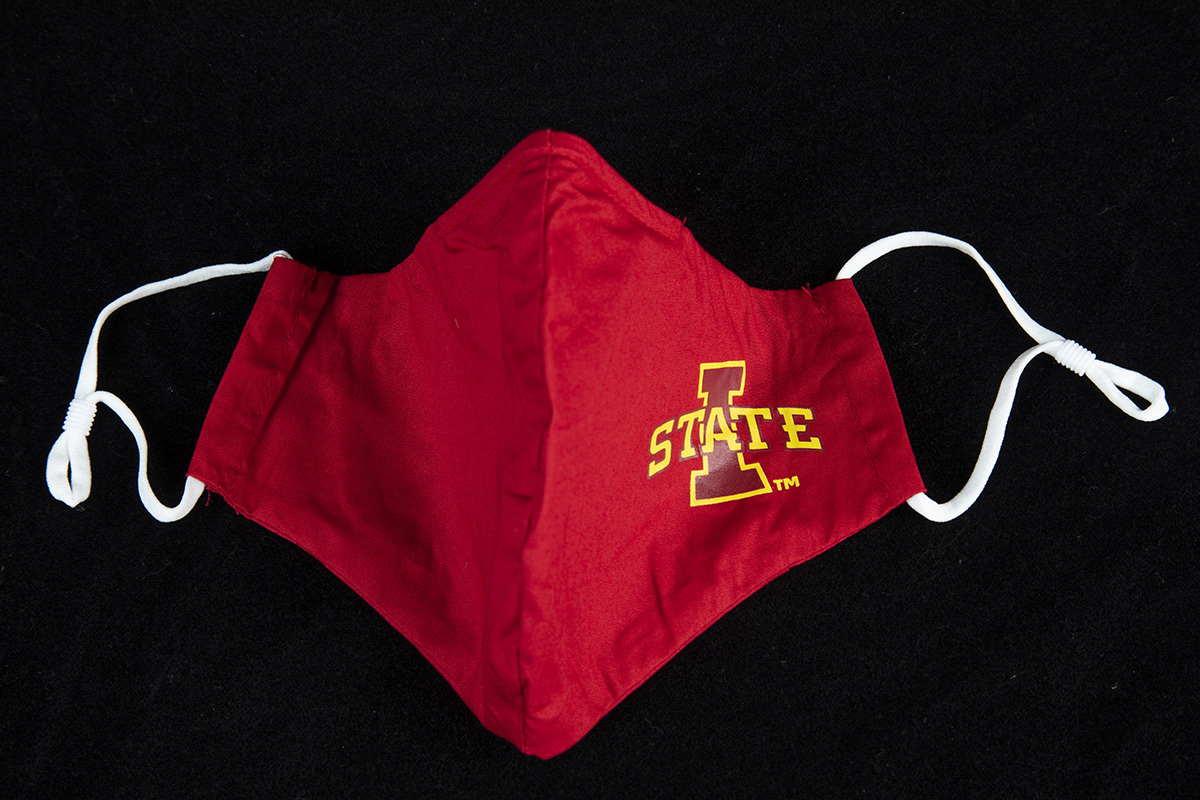 When Ellen McKinney walks around campus she can't help but smile seeing students wearing a university-supplied face covering. The smile may be obscured by her own, but that doesn't diminish the pride she feels for playing a part in taking the student face covering from concept to reality.
"I feel a bit of ISU pride any time I see a student walking across campus wearing one of these masks," the associate professor in apparel, events and hospitality management (AESHM) said. "It was wonderful to use our textiles science and design expertise to help create something that positively impacts our students every day."
The committee
University leaders decided this summer to provide face coverings to students. The expertise to make it happen was already on campus.
"They wanted us involved because we know the functional properties that are important as well as the aesthetics," AESHM chair Eulanda Sanders said. "Our department works to solve problems in everyday life, and when we do that very well it makes people's lives easier."
Sanders, McKinney and former teaching professor Changhyun Nam joined a committee in June with assistant vice president for specialty business services and cultural arts Duane Reeves, ISU Police chief Michael Newton, trademark licensing office manager Leesha Zimmerman, procurement services' Cory Harms and Kelly Freel, and Student Government president Morgan Fritz and vice president Jacob Schrader to design and deliver face coverings to students for the fall semester.
Working ahead
Several months into the pandemic, Sanders, McKinney and Nam were researching face coverings and design before they were tasked with this project.
"Ellen had ideas about the best fabrics, and Nam looked at different designs because when you see a lot of masks they don't fit the face well," Sanders said.
Nam worked with a team of students in the spring to improve surgical face coverings, allowing him to apply that knowledge to this project.
Design
There were two main questions for designing a face covering for students: Does it filter appropriately? Is it comfortable?
"For comfort, we didn't want any fabrics that were itchy or would make you sweat," McKinney said. "We also looked at durability because we knew it had to be washable."
One of the reasons student face coverings differ from those supplied to faculty and staff is because of the demands put on them. McKinney knew durability in the washing machine and comfort would go a long way to encouraging students to wear a face covering, a key component of the Cyclones Care campaign.
The original design came in three pieces to better shape the users face, but the final product was a single piece that maintained the shaping concept.
The end result was a 100% woven cotton face covering 9 inches wide by 6.5 inches high in Cardinal red with the I-State logo on it. The face covering is sturdy enough to block particles but also features a small pocket for wearers to add a filter.
Adjustable ear loops and a nose wire keep glasses from fogging up and fit a range of face types.
Delivery
With the specifications determined, procurement services sent a request for proposals to 42 vendors licensed to produce items with the ISU logo. Vendors sent images back to the committee, which narrowed the choices to three and prototypes were produced.
"We tried to make it a quick turnaround time, and the full duration of the bid was 10 days," Freel said. "A lot of times we will give suppliers 14 to 21 days, but since time was of the essence we had to speed it up."
The student committee members provided feedback and McKinney and Schrader tested the prototypes. The selection was made and an order was placed, requiring 35 days to complete. The individually wrapped face coverings came in two shipments of 55,000 and 60,000.
Face coverings were distributed to students during campus residence hall and apartment move-in, and volunteers handed them out at distribution tents on the opening days of the semester. More face coverings were made available in college student services offices and the ISU Book Store also received an inventory to sell, both online and in the store.
"Originally, we were going to have the masks for the first day of classes, but when residence bumped up their testing dates we pushed the supplier and they got them to us a week before they were supposed to," Reeves said.