Your Iowa State login page will look a little different when you go online March 1. That's when campus takes another step in a shift to the Okta identity and access security platform.
"We're rolling out Okta in multiple phases," said Darin Dugan, identity services manager in information technology. "This phase makes Okta the primary login for web applications."
The look may change, but the request for a Net-ID and password will not. Just like the current page, this one will appear for access to any web-based services or applications that currently require ISU login credentials -- for example, Canvas, Cybox, Office 365, PeopleAdmin or Qualtrics. Dugan said it also includes Iowa State services and sites limited to campus access, such as Learn@ISU or WorkCyte.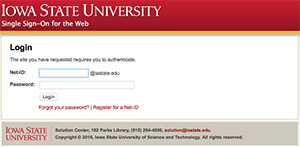 "All that means for users is that when they sign in, the page they're used to seeing will be replaced with a new login page," Dugan said. "We went the route of minimal impact to the campus community."
Once logged in, users can access other web-based applications that require an ISU Net-ID and password without re-entering their credentials. However, users must sign in on each web browser they use. Credentials are valid until the user quits the web browser or, for early adopters and advanced users, signs out on the Okta dashboard.
Take it a step further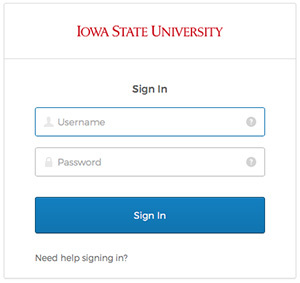 Dugan said more than 700 people opted in as Okta early adopters. Users still can jump ahead of the phased Okta rollout by setting up multifactor authentication (MFA) and a personalized dashboard.
"Right now, users can go about business as usual," Dugan said. "If they want to take advantage of the dashboard or MFA enrollment, they can go to the Okta sign-in page."
MFA options and dashboards can be set up by accessing the Okta sign-in page directly (login.iastate.edu). It also will be added to the "Sign Ons" link in the top right corner of the university homepage. Target dates aren't yet set for the next phases of the campuswide switch.
"Once we understand the impact of MFA and the steps needed to enable it campus wide, we'll pick a date when MFA enrollment is required," Dugan said.
Related stories