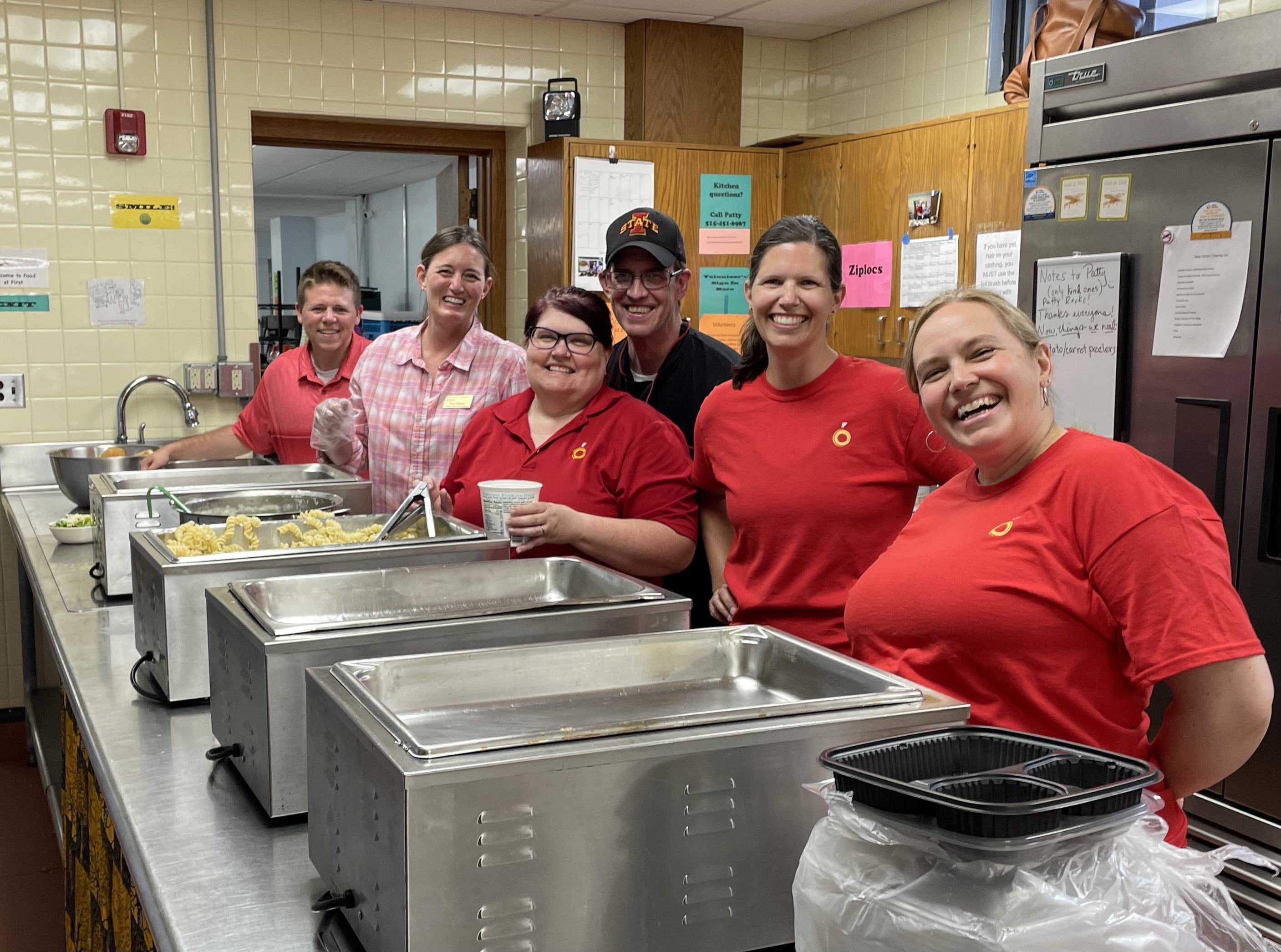 With more than 20 dining locations across campus plus catering for university events big and small, it's an understatement to say that ISU Dining prepares and serves a lot of food. But thanks to its sustainability efforts, it doesn't go to waste when dinner is done.
Composting
South of campus lies Iowa State's compost facility, constructed in 2008 to manage manure from the ISU Dairy Farm and compost organic waste materials. Though manure accounts for almost 80% of the facility's materials, the site began composting food waste from several dining units, including Seasons Marketplace, Conversations and the Union Drive Marketplace in 2009.
Approximately 300 tons -- around 600,000 pounds -- of food waste is diverted annually to create compost. The waste is pre- and post-consumer, and scraps left from prepping meals and uneaten food are transported to the facility to begin their second life as compost. Karen Rodekamp, associate director of engagement for ISU Dining, says the waste becomes compost within three to six months before being used around campus in construction and landscaping projects.
Giving back
Rodekamp is particularly proud of ISU Dining's decades-long partnership with Food at First, a local nonprofit that offers a daily free meal program and perishable food pantry to help address food insecurity in Ames.
Volunteers from Food at First come to campus dining locations several times a week to pick up day-old baked goods, unused meals from catered events and perishable items ahead of university holiday breaks that would otherwise be unusable when classes resumed. ISU Dining staff have also donated time and a helping hand to the nonprofit in the summer months when student volunteers are less available.
The Give a Swipe program is another way dining helps promote sustainability while supporting food security on campus. Students can donate Flex Meals or Dining Dollars during a scheduled donation period, and staff in the offices of student assistance, student wellness, financial aid, international students and scholars and student counseling services help identify students in need to receive these meals.
Buying local
A variety of ISU Dining's ingredients are purchased locally each year, ranging from fruits and vegetables to meat and more. Some of the produce comes from Iowa State's horticulture research station, located a few miles north of Ames on Highway 69. In addition to the positive impact on the local economy, buying local also reduces the use of fossil fuels needed to transport food to the university.
Rodekamp estimated that buying local products accounts for around 10% of the total food purchased by dining each year. In addition to products from Iowa State farms, dining works with Iowa producers and businesses like Dolan Farms, Old Capitol Food Co., Wells Blue Bunny and Cookies Food Products to source ingredients.
Rodekamp says dining strives to purchase locally whenever possible, though the growing season in Iowa can sometimes pose a challenge. "We basically have just six weeks from school starting in August to the first freeze of the fall," she said.
Luckily, campus partners like the horticulture research station have adapted to maximize the delivery window. Rodekamp credits superintendent Nick Howell and agricultural specialist Brandon Carpenter for creating a staggered planting and harvesting schedule for produce like bell peppers and onions – dining uses 5,000 pounds of each per year -- so dining can get fresh, local goods later in the season.
Recycling
Compost recycles food waste, but what about the boxes, jars and containers the food arrives in? Glass, plastic, cans, lightbulbs, old equipment, uniforms and lots of cardboard are among the many items ISU Dining recycles. Items that can be sold head to ISU Surplus, and not even used cooking oil goes to waste -- it's transformed into biodiesel fuel to power CyRide's buses.
Dining's Bring Your Own Cup (BYOC) initiative encourages students and employees to grab their drink of choice in a reusable cup to save 35 cents and avoid wasting a disposable cup. BYOC is available at all campus cafes, and Rodekamp says approximately 6,000 cups were saved in the past year.
Prioritizing sustainability
Rodekamp says sustainability is a priority for ISU Dining not only because it's the right thing to do but because it's important to the students.
"Dining is part of the overall educational experience at Iowa State," Rodekamp said. "We employ more than 1,300 students a year in dining, and sustainability is important to our staff and student employees.
Rodekamp says it's special for students and dining staff to see the full circle process of something produced at Iowa State or locally served in the dining facilities and then recycled and composted to serve another purpose on campus. She emphasized that the sustainable efforts made by ISU Dining are possible because of partnerships on and off campus.
"We are very fortunate to have great relationships with the compost facility, horticulture research station, Food at First and so many other growers and producers," she said. "We could not be successful without these partners."